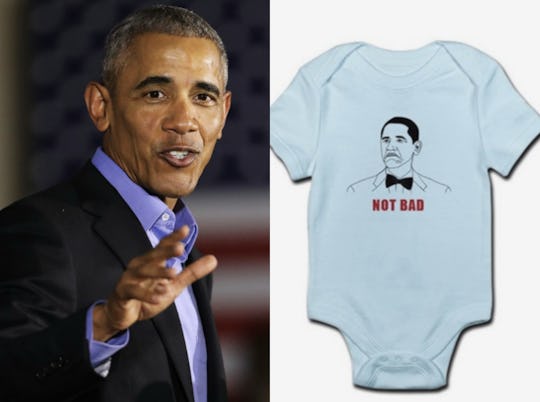 Spencer Platt/Getty Images News/Getty Images / Cafe Press
7 Barack Obama Halloween Costume Ideas For Babies, Because You're Feeling Nostalgic
If you're feeling nostalgic for American politics circa 2008 to 2016, why not channel these feelings into your baby's Halloween costume? The Obama costume ideas for babies are all adorable, and chances are no one else will have a similar look this year. You can craft a political costume for your baby that will almost certainly sidestep any of the controversies that can sometimes come with political costumes.
By relying on iconic photographs, images, and even memes, these Obama costumes are all in good spirits and appropriate for most any baby. (Seriously: the same cannot be said for all political garb that comes in infant sizes.) Although they may lightly tease the former president's clothing options or candid facial expressions, none of these costumes are intended to convey serious, biting political satire. Rather, they're more of a commentary on the way #44 influenced pop culture.
In addition, these looks are all pretty easy to throw together. In fact, you may already have some perfect costume accessories on hand with your regular baby outfits. For the most part, a humorous onesie may be the only thing you need to purchase. Feel free to chose from one of the following looks, or let the costume suggestions inspire your own Obama-related getup. Whatever the case, hopefully you and your kiddo will have a perfectly not bad Halloween.