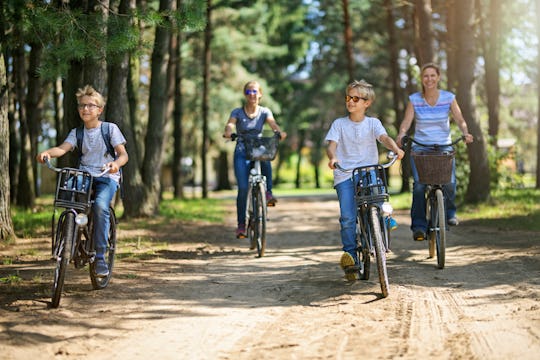 Imgorthand/E+/Getty Images
Here Are 7 Reasons Why Every Member Of The Family Should Have A Bicycle
Sure, storing them might be a total nightmare, but bicycles can be a blessing for your family's overall fitness levels and well-being. And if you thought that bikes were only for kids, think again. In fact, every member of the family should have a bicycle. Cycling is one of the few athletic activities that everyone can engage in at the same time, and riding a bike has a whole host of health benefits.
"Bike riding can be a great form of exercise, and everyone knows that exercise of almost any sort makes us feel better both physically and psychologically," Dr. Cara Natterson, M.D., a pediatrician and author of Decoding Boys: New Science Behind the Subtle Art of Raising Sons, tells Romper. And unlike other sports that might require a ton of gear, all you need to ride a bike is a helmet, some protective gear (and a bike, obviously), and you're ready to hit the road.
They say that you never forget how to ride a bicycle. So break out your bike and go for the ride of your life with your kids and your partner. And make sure the rest of your family have their own sets of wheels, of course. Your body (and mind) will thank you.