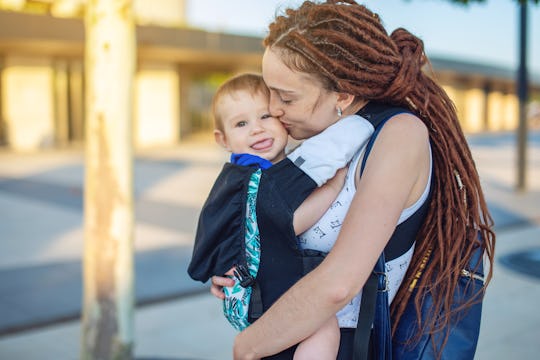 Shutterstock
These 7 Benefits Of Toddler-Wearing Are A Huge Plus For Tots Who Always Want "Up"
"Maybe you've seen a parent in the mall with an enormous backpack that looks like they're about to hike the Himalayas. But when you take another look, you realize that they're actually carrying a not-so-small kid rather than supplies and a sleeping bag. There's a name for what you see, and it's called toddler-wearing. And as it turns out, it's not a bad thing at all — for you or your child.
"Toddler-wearing is an intuitive solution for some of the challenges of the toddler age," Dr. Elizabeth O'Keefe Morse, a licensed psychologist in Long Island, NY, tells Romper in an interview. "Specifically, toddler years can be particularly tricky in that they consist of extremes: fiercely wanting to assert independence and then clinging to parents and caregivers in the next moment." And since separation anxiety can also peak during the toddler years, according to the American Academy of Pediatrics, toddler-wearing is a simple solution to a common parenting problem.
Of my four children, my youngest son (who, at 2 ½, is smack dab in the middle of the toddler years) is by far the clingiest. He wants to be held all the time. I've had him in my arms in almost every instance, from when I've been in the bathroom, to flipping pancakes, you name it. But he's content when he's being carried, and hysterical when he's not. Because I want him to be happy (and all that screaming is no bueno for my nerves), he's become an unexpected appendage of sorts. So I was delighted to discover that toddler-wearing is good for both of us. Read on to discover the benefits you'll both reap by wearing your little guy or gal.