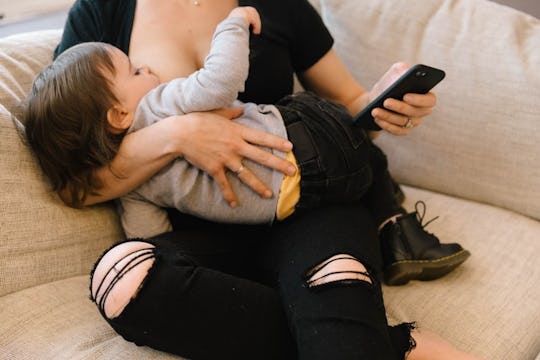 Ashley Batz/Romper
These Are The Best Foods For Breastfeeding Moms, According To A Nutritionist
I know it seems like since you saw those two pink lines on that pregnancy test, it's been all about what you should and should not put into your body. And for some moms, it doesn't just stop once that baby is out. If you choose to breastfeed, now you get to worry about milk supply. And guess what? Unfortunately, what you put into your body still matters according to nutritionists — especially since your baby is still getting everything you eat. As far as milk supply goes, these are the best foods for breastfeeding moms, according to nutritionists.
When it comes to breastfeeding, nothing can replace a healthy diet, according to Amanda Capriglione, a registered and certified dietitian nutritionist and owner of Food Balance. Capriglione tells Romper that an ample amount of protein from good sources like chicken, turkey, lean beef, eggs, beans, and fish are some important dietary staples, as well as whole grains, healthy fats from olive oil, omega 3s, and avocado, "and of course every fruit and vegetable under the rainbow."
However, Capriglione adds, "Scientific studies featuring galactagogue foods and how they can increase breast milk supply are mostly inconclusive. There is no magic potion that automatically provides a woman with more breast milk, but certainly a variety of the aforementioned foods can help. Women's bodies are very smart — the more frequently you breastfeed, the more milk you make." Capriglione breaks down some of the foods that are best for breastfeeding mamas.