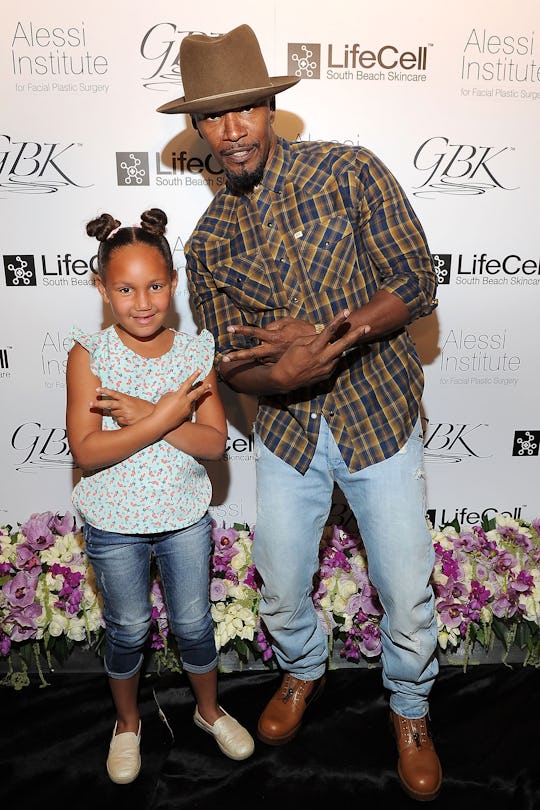 Jerod Harris/Getty Images Entertainment/Getty Images
7 Celebrities You Had No Idea Were Single Dads & Are Pretty Amazing At It
When it comes to parenting, single dads are a group rarely given their due. Single parenting is hard for anyone, but when you think of parenting solo, usually a hardworking, exhausted mama comes to mind. But there are plenty of dads out there doing it all by themselves too. Here's a list of celebs you had no idea were single dads.
There are more single dads than ever. In fact, Pew Research said in 2013 that there was a record number of households with kids headed by a single father — a nine-fold increase since 1960. Households with single fathers, much like this list of celebrities, are made as the result of a variety of circumstances — from surrogacy to becoming a widower — and they are a segment of American parents that are expected to continue to grow, according to Pew, which might seem surprising.
While these celebrities probably have lives that aren't too similar to everyday working dads around the country, they do serve as important role models who help give the rest of us an idea of who they are and the admirable jobs they're all doing raising their babies on their own. So in the spirit of celebrating these handsome and talented gentle warriors, here are a few celebrity single dads who can take care of the kid business and make it look good, too.
1. Usher
After an u-g-l-y breakup with ex Tameka Raymond, R&B star Usher now shares custody of his two sons, Usher V, 8, and Navid, 7.
2. Ricky Martin
Livin' La Vida Loca inevitably took on a whole new meaning when Ricky Martin became the father of twin sons Valentino and Matteo via surrogate in August 2008. The boys travel with their dad everywhere and are every bit as breathtakingly gorgeous as their father. Martin's quote to People on being a single dad tells you everything you need to know about how he approaches his somewhat unconventional family.
I know nothing but being a single father. I am surrounded by fascinating women who really care about me and my kids, and they will always be there for them. When they come with a question, the answer will be right there with honesty. They won't feel alone because thousands, if not millions, of children are being raised by single parents. And I'll have to focus on the light, not the darkness.
3. Jamie Foxx
Jamie Foxx is the father of two gorgeous daughters, Corinne Foxx, 21, and Annalise Bishop, 6, and the proud papa has never shied away from showing them off and bringing them as his dates to high profile events like the Grammys and the Oscars. Corinne was recently named Miss Golden Globe 2016, which made her dad so proud he got a little weepy.
4. Liam Neeson
Following the tragic death of his wife, Natasha Richardson, in a ski accident in 2009, actor Liam Neeson became the single dad of two sons Micheál, 20, and Daniel, 19. Shortly after the loss of his wife, Neeson was back at work and trying to raise his boys, Ramona Braganza, Neeson's trainer on his film The A-Team told People:
He is much like the characters he plays-a strong-willed, caring, inspirational hero. Mostly he is a great dad to his kids.
5. Cristiano Ronaldo
The Portuguese international soccer icon made the decision to raise his son, Cristiano Ronaldo, Jr. alone without his mother and has kept the identity of his mother a closely guarded secret, even from his son, who is already 5 years old.
When asked on a British television interview about the decision, The Mirror reported he said he didn't think it was such a big deal.
"For me it is not a problem," Ronaldo said. "In the world, many kids don't have mum, don't have dads or dads die or mums die."
6. Common
The rapper with a serious social justice streak is the proud father of Omoya Assata Lynn, 19, who he brought as his date to the 2015 Grammy Awards. He talked about his status as a single father with comedian Larry Wilmore, saying he was personally shocked by recently released statistics on how many kids of color were being born out of wedlock.
"The number definitely hit me in a hard way that I didn't expect it to be that high," he said. "That doesn't mean that the father's absent."
7. Louis Tomlinson
The 24-year-old One Direction heartthrob became a father this year to a bouncing baby boy, Freddie Reign Tomlinson with his girlfriend Briana Jungwirth. Since Freddie's birth, the two parents have struggled to settle on a custody arrangement, but Tomlinson insists he's committed to being a present father for his son.