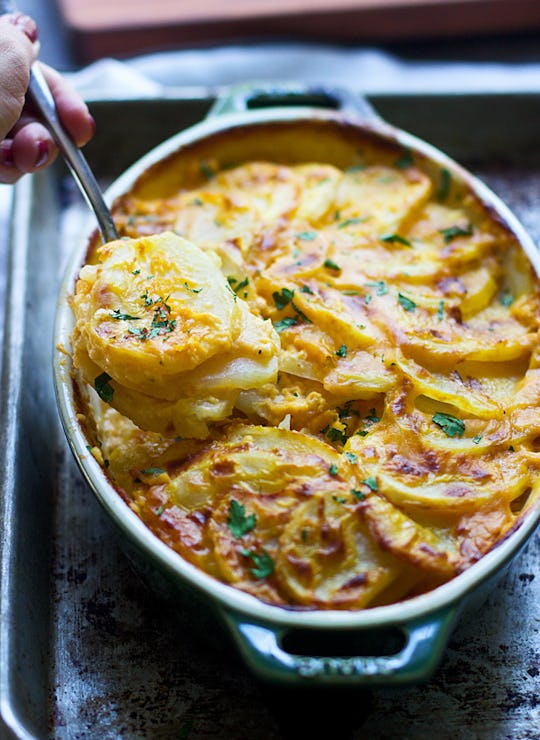 7 Cheap Thanksgiving Dishes That Look Like They Came From A Fancy Food Magazine
Thanksgiving is a time for family, food, and being grateful, but when you're the head chef and curator of the feast, it can be super stressful, too. It's a mix of horror and panic as you stare at your overflowing cart and worry that you have to take out a second mortgage to make this meal. And why? So you can Instagram pictures of toasted marshmallows and casserole dishes filled with stuffing? It's time to create some cheap, easy Thanksgiving dishes that look gorgeous and make you feel like the host of your own Food Network show.
Let's be honest, that's half of the fun with Thanksgiving, isn't it? Thanks to Pinterest, Instagram, and Target's adorable serving bowls, it's a blast to create a tablescape you love. And since there's so much food on this holiday, you want dishes that can look pretty against your autumnal table cloth and food that will plate well. All the great chefs do it, right? I can't recall the number of times I've seen Gordon Ramsay has reduced one of his contestants to tears over a crappy looking dish, or witnessed Ina Garten put the perfect garnish on an already beautiful dish. Thanksgiving is your time to shine as the food goddess you are, but you don't want to break the budget either. And you don't have to, trust me. With these seven cheap and easy Thanksgiving dishes, you won't spend all day in the kitchen nor will you have to proclaim that the meal is everyone's Christmas present because you went broke. You can have the beautiful meal you want with money left over to pick up some new cutlery for all of those Facebook pictures.