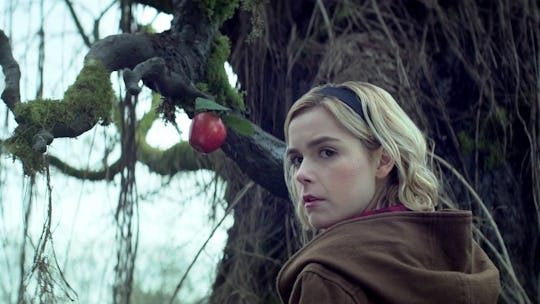 Netflix
These 'Chilling Adventures Of Sabrina' Halloween Costumes Make Goth Glamorous
Sabrina is back. If you spent the late '90s watching Melissa Joan Hart on Sabrina, The Teenaged Witch, you might be pretty pumped for the new Netflix reboot. The Chilling Adventures of Sabrina dropped on October 26, with Kiernan Shipka taking on the title role. If you've already managed to binge the series, or just want to pay homage to latest iteration of a beloved character, there are some super cute costumes inspired by The Chilling Adventures of Sabrina that you could easily throw together in time for Halloween.
Sabrina has actually been around since the '60s, when she first debuted in an Archie comic, as the official Archie website explained. The new Netflix series takes her in a whole new direction from the comics and the previous show, however. Screenrant noted that it's much darker, and even includes violence — something that definitely wouldn't have flown on super wholesome night of "TGIF" programming.
The scarier vibe could make The Chilling Adventures of Sabrina another Halloween hit for Netflix. This time last year the streaming service dropped the second season of Stranger Things, which inspired tons of Halloween costumes. Could Sabrina be the next Eleven? Only time will tell.
Here are seven costumes to channel your inner teenaged witch this Halloween.