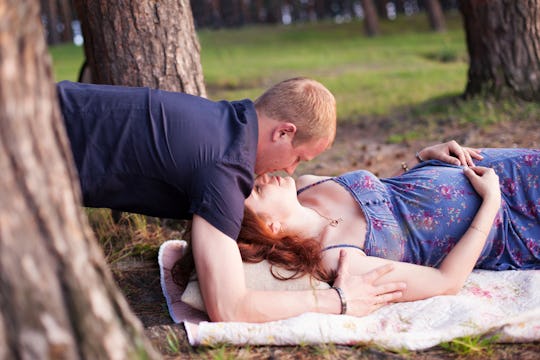 olesyaturchuk/Fotolia
7 Comfortable Kissing Positions For Pregnant Women Who Don't Want A Back Ache
Being intimate with your partner is always important, but during pregnancy, it seems to be even higher on the priority list. It's a huge time in both you and your SO's live,s and that time to reconnect and be intimate is totally necessary. But, it does come with its complications, like trying to find comfortable kissing positions while you're pregnant.
I know that many relationships don't count kissing as a huge part of their intimacy once they've been together for a while, but I stand by it. I think it's one of the best ways to physically connect with your partner and, sometimes, it can pack a much bigger punch than just sex. It's a reminder of the intimate connection you shared when you were first dating and, let's be honest, it makes sex a whole lot more enjoyable when you've totally aroused each other with a hot make-out sesh.
When you're pregnant, kissing has another huge benefit — it's not sex. Sex while pregnant isn't impossible, but the larger your baby bump gets and the more problems you have, like back pain or swelling, the harder it can be to enjoy it. Kissing gives all pregnant women the chance to reclaim some of that intimacy with their partner and raise their arousal levels without doing any crazy, intense positions.
But that baby bump can still get in the way of a hot kissing moment, which is why you need these seven comfortable kissing positions. Relieve yourself of any potential back and neck pain, as well as keeping your baby bump from interrupting your kissing. Trust me, your baby will find a better way to do that once they are out of your womb.