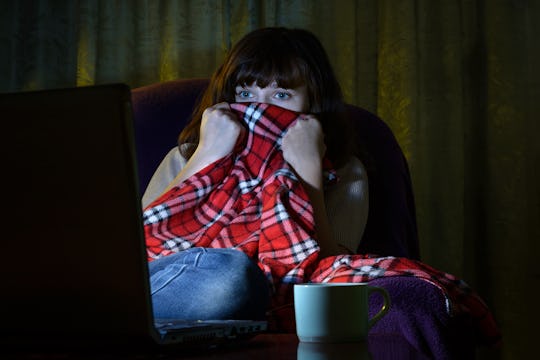 Alexander Penyushkin/Shutterstock
7 Creepy Things That Happen To Your Body When You Watch A Scary Movie
Hereditary. V/H/S. Raw. The last few years of horror films have gotten scarier, gorier, and more intertwined with frightening current events than ever before. They've caused viewers to scream, jump, experience racing hearts, and even throw up. I mean, there are a lot of creepy things that happen to your body when you watch a scary movie.
At the Toronto Film Festival screening of Raw, a movie that features some pretty graphic cannibalism, The Guardian reported that paramedics had to be called because moviegoers were fainting. The 2012 release of V/H/S caused fainting incidents at Sundance and later in a theater in Los Angeles, too, noted Gizmodo.
When Hereditary was first released, the company behind the film, called A24, held special screenings where moviegoers were asked to record their heart rates during the movie using the health app on their Apple Watches. As Buzzfeed News reported, viewers had recorded heart rates as high as 164 beats per minute, which is pretty high for a healthy adult who isn't exercising at the moment.
While this "heart rate challenge" was just a marketing move for the film, it showed that watching scary movies can actually affect the human body. And those effects aren't limited to a racing heart. Even if horror flicks don't cause you to pass out, your body is still reacting to what you're seeing — in ways you may not even realize.