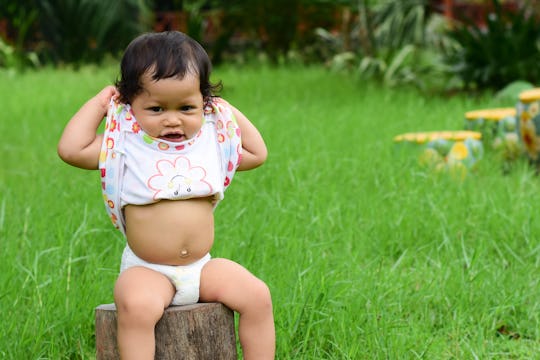 Hokkai Heso Matsuri/Shutterstock
Science Says The Height Of Your Belly Button Can Affect Your Athletic Ability
What is it about that little dimple in the center of our bodies that makes it so darn interesting? It may seem to be there just to collect dust and hang an occasional ring on, but in fact, there are more fascinating facts about belly buttons than you might have imagined.
The belly button, which is what remains of the nutrient-bringing umbilical cord after birth, is one of the characteristics that classifies humans as mammals (although, as Reader's Digest has pointed out, a few exceptions to the belly-button rule do exist, such as kangaroos and platypuses.)
For an area that takes up so little space on our torsos, it certainly takes up a lot of our minds. Songs have been written about it (most notably the VeggieTales' "Belly Button Song," in which Mr. Lunt bewails his lack of a navel. Turns out, he's a gourd, so his stumpy umbilical stem is on the top of his head). Popular children's author/cartoonist Sandra Boynton has penned The Belly Button Book for toddlers.
On a more philosophical level, the question of whether Adam and Eve had navels has been plaguing Biblical scholars throughout the ages. Culturally, belly buttons have been the source of controversy, too. Showing a woman's navel on TV was banned from 1951 to 1983, according to MeTV. That made it tough for actresses on I Dream of Jeannie, Gilligan's Island, and other shows where bikinis and other two-piece outfits were standard wear.
What else is there to know about our little stomach dent? A lot, it turns out. Here are some fun facts you may not have known (and which will be hard to forget once you read them).