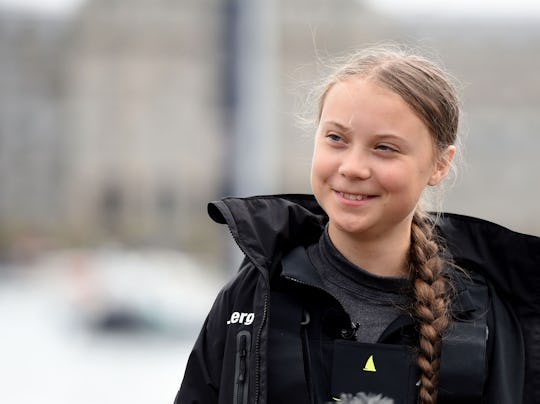 Finnbarr Webster/Getty Images News/Getty Images
7 Inspiring Facts About Climate Activist Greta Thunberg That Show How Awesome She Is
As the race against the climate change tipping point approaches, a fresh, young voice is rising above the crowds calling for conservation and action. While you've likely already heard her name and know a thing or two about the Swedish superstar, these facts about Greta Thunberg, the 16-year-old climate activist that inspired a movement, might surprise you. She's accomplished quite a lot in her short life thus far.
Thunberg recently made American headlines for taking a treacherous two-week journey in an emission-free sailboat from Sweden to New York to attend a UN summit on zero emissions, according to The Guardian. On Friday, Thunberg used some of her time in the United States to participate in a climate change rally in front of the White House. But while this may have been the first time many Americans learned about Thunberg's activism, she is far from a new participant in the movement to fight climate change.
A self-taught science enthusiast, Thunberg spent many of her formative years combing through peer-reviewed journals and translating climate science jargon into "a language that [she] could understand at that age, as she told The Washington Post. From there, she has gone on to make waves across the globe, encouraging people to "listen to the science" and leading by example. And here are few more things you should know about the impassioned teen.