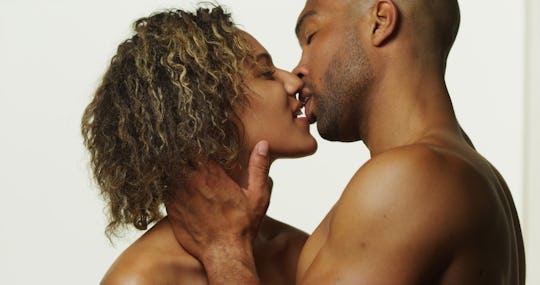 7 Feminist Sex Positions So You Can Be A Feminist In The Streets & The Sheets
If you're a feminist, like I am, you probably spend a lot of time thinking about sex and relationships. And, while you know that consent is important to any sexual interaction, you may not have thought beyond that when considering what makes sex a feminist act. Empowered sex is feminist, sure, but what about positions themselves? What makes a sex position feminist?
To answer this question, I did what any person in 2015 would do: I asked my Facebook friends. It turns out that the answer is way more complicated than just, "Woman on top." Oh boy, is it more complicated than that, because sex itself is more complicated than penis-in-vagina intercourse being had by a cisgender man and a cisgender women. That notion of sex, along with the patriarchal ideas contained within it, is outdated and oppressive. So in order to answer the question "What sex positions are inherently feminist?" we need to move beyond a heteronormative understanding of sex in general.
Still with me? Good. So if you want to be a feminist in the streets and in the sheets, it's less about what position you find yourself in and more about the motives and meaning behind the position. With that said, here are the things that my Facebook friends and I decided make a sex position feminist.