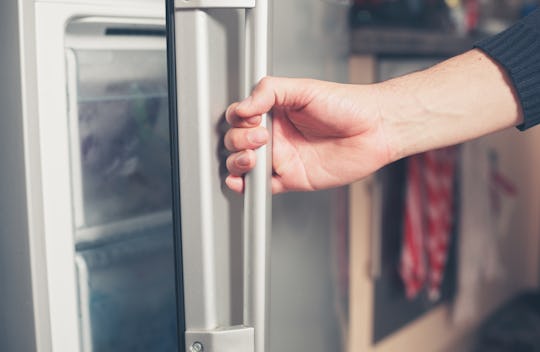 LoloStock/Fotolia
7 Hacks To Maximize Your Freezer Space For Breast Milk Storage
A great freezer stash of breast milk is a beauty to behold, but finding room for all that liquid gold can be a total pain if you don't know any hacks to maximize your freezer space for breast milk storage. And, let's be honest, getting rid of the ice cream is not an option.
Unless you're starring in your own episode of MTV's Cribs, you probably have a pretty standard fridge and freezer combo. Whether your freezer is up top with its own door, a separate drawer at the bottom, or a side-by-side combo, those things don't necessarily have a lot of room. But according to Mayo Clinic, frozen breast milk can hang out in a freezer from six to 12 months without an issue. So optimizing that space? Totally necessary if you want a breast milk freezer stash you can be proud of.
Depending on what's already in your freezer, you may have to get a little creative, but it can be done. Just remember, for every bag you take out to feed your baby, you have to replace it with a pumping session to keep your supply up and your freezer full, noted Exclusive Pumping. Whether you're storing it to save for later feedings or planning on donating your milk, these seven hacks can save you some space (and a headache) as you're building up your freezer stash. With these tips, you'll be able to handle that and still have room for the Costco-sized box of burritos you just bought.