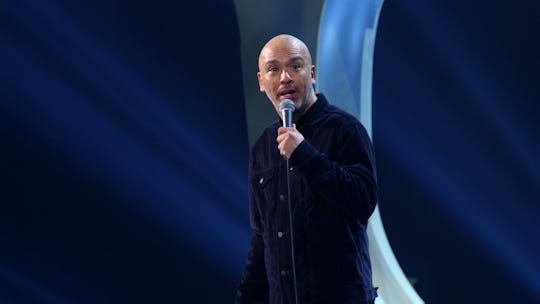 Netflix
All Parents Can Relate To Jo Koy's Jokes About His Son From His Netflix Special
Comedians almost always draw from their own real life experiences to come up with jokes and on Jo Koy's new Netflix stand-up special, Jo Koy: Comin' in Hot, it's no different. He takes inspiration from his life experiences growing up with a Filipino mother and now, his own experiences as a parent himself. And these Jo Koy jokes about his son from his Netflix special show how important fatherhood is to him. As a parent, you take the good with the bad, and sometimes you even take the truly awful with the good.
If you can't find a little humor through it all, you will drive yourself bananas. As a comedian and a father, Koy has that down to a science and his jokes about his son are ones that most parents can relate to.
At one point in the stand-up special, Koy brings up his son's privilege at a private school versus his own childhood, growing up in different kind of household. Another time, he says how disciplining a teenager these days is a lot easier than it was when he was a kid because all you need to do to get your point across is take their cell phone away. Honestly, a truer joke has never been said. But this isn't the first time Koy's life as a dad spilled into his comedy routine.
During his 2017 Netflix special, Jo Koy: Live From Seattle, Koy joked about what it was like raising a 13-year-old boy. Besides totally throwing his pubescent son under the bus, Koy doesn't seem like a regular dad. He's a cool dad. And the jokes on his latest Netflix special continue to prove that.