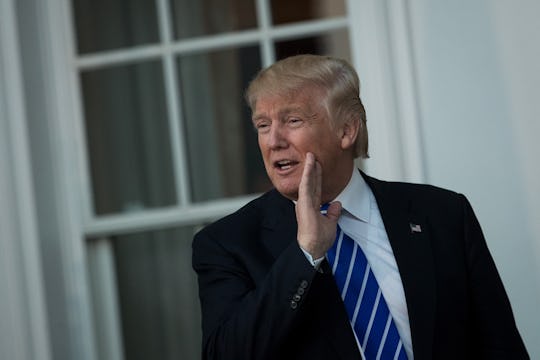 Drew Angerer/Getty Images News/Getty Images
The WHCD's Best Trump Jokes From Over The Years
Instead of attending the annual White House Correspondents' Dinner (WHCD) Saturday, President Donald Trump will host a rally in Pennsylvania. Although the sitting president traditionally delivers a satirical, comedic speech at the "Nerd Prom," it's no surprise that Trump has opted to sit this one out. And that's not just because of his open disdain for, distrust of, and frequent attacks on the journalists who cover him that the glamorized event celebrates. He's also ostensibly out to protect his own ego by surrounding himself with fervent supporters rather than a roomful of people laughing at him — because Trump has been on the receiving end of jabs at the dinner for years. In fact, these jokes about Trump from past White House Correspondents' Dinners chronicle the recent tradition of roasting him there.
But this isn't a case of bullying an innocent victim. Instead, Trump's predecessor, President Barack Obama, made a point to target the now-president at many of the WHCDs he attended as president in response to Trump's repeated, highly public, racist, false claims that Obama was an illegitimate president because he was not born in the United States. Trump persisted in the charade for years before admitting in a September 2016 campaign press conference that birtherism has zero basis in reality.
Obama is often praised as one of the funniest presidents the United States has seen, so he employed his sense of humor to rip Trump at the WHCD year after year. In doing so, he proved what the current president undoubtedly already knows: There's no way Trump could ever live up to Obama's flawless comedic timing and natural humor if he were to try. (To be fair, it's a high bar.)
But considering that he's the butt of many of them, there's no denying that Trump contributed to the jokes — just see for yourself:
2011
2011 was the year that really started it all, in terms of Obama perfecting an art form of making fun of Trump. Trump's hammering on the non-issue of Obama's birthplace had recently driven Obama to release his full birth certificate to the public, but he wasn't about to let Trump believe that meant he had won. Quite the opposite: Obama delivered his epic takedown of the real estate mogul and reality TV star with Trump in the room. Here's what he said:
Donald Trump is here tonight. Now I know that he's taken some flak lately. But no one is happier—no one is prouder—to put this birth certificate matter to rest than The Donald. And that's because he can finally get back to focusing on the issues that matter: Like, did we fake the moon landing? What really happened in Roswell? And where are Biggie and Tupac? All kidding aside, obviously we all know about your credentials and breadth of experience. For example … no seriously, just recently, in an episode of Celebrity Apprentice, at the steakhouse, the men's cooking team did not impress the judges from Omaha Steaks.
And there was a lot of blame to go around, but you, Mr. Trump, recognized that the real problem was a lack of leadership, and so ultimately you didn't blame Lil Jon or Meat Loaf, you fired Gary Busey. And these are the kinds of decisions that would keep me up at night. Well handled, sir. Well handled. Say what you will about Mr. Trump, he certainly would bring some change to the White House. Let's see what we've got up there.
Years later, after he had actually become president himself, Trump would insist that the incident did not prompt him to launch his candidacy.
2011, Continued
In fact, Trump had already been hinting at an eventual presidential run before that night — which armed comedian Seth Myers with his own material to poke fun at him. "Donald Trump often talks about running as a Republican, which is surprising," the comedian said that April night. "I just assumed he was running as a joke."
Trump was so unimpressed with the quip that he later blasted Myers in an interview with The New York Times. "Seth Meyers has no talent," he insisted at the time. "He fell totally flat. In fact, I thought Seth's delivery was so bad that he hurt himself."
2012
The next year, Trump tried a different tactic when Obama went after him again. Obama had started off his speech by referencing the United States' killing of 9/11 mastermind Osama Bin Laden the year before — or so the audience thought when he remembered "[delivering] justice to one of the world's most notorious individuals." Instead, the room's television monitors flashed a photo of Trump.
And The New York Daily News later reported that Trump had said he was "honored" to be the joke that time around. "It was done in a very nice fashion and well delivered," Trump explained, according to the newspaper. " ... He is the president, and his first words were uttered about Donald Trump."
2013
In 2013, Obama backed off a little. Instead of joking about Trump directly, he called out of ridiculousness of the birtherism claim. "I'm also hard at work on plans for the Obama library," he said, according to HuffPost. "Some have suggested that we put it in my birthplace but I'd rather keep it in the United States."
2014
The Trump talk was all but nonexistent in 2014 as well. At the time, Obama directly addressed right-wing cable news channel Fox because of its own peddling of the birther lie. "Let's face it, Fox, you'll miss me when I'm gone," he said. "It'll be harder to convince the American people that Hillary [Clinton, who would eventually become Trump's 2016 presidential opponent] was born in Kenya."
2015
At the time of the 2015 WHCD, the presidential primary race was underway. Trump hadn't announced his candidacy just yet, but it was common knowledge that he was considering making the move. After sounding off on Republican primary candidates like Ted Cruz and Rick Santorum, Obama was dismissive of Trump's plans. "Donald Trump is here. Still," he joked, according to CNN. "Anyway."
2016
By the time the WHCD rolled around in 2016, though, Trump was a serious contender to secure the Republican primary. Knowing that viewers were dying to hear what he had to say on the subject, Obama started to end his remarks with nary a mention of Trump.
"Well let me conclude tonight on a more serious note. I want to thank the Washington press corps," he deadpanned, according to NBC News. "The free press is central to our democracy and … nah! I'm just kidding! You know I'm gonna talk about Trump! Come on!" Of Trump's absence, he joked,
And it is surprising: You've got a room full of reporters, celebrities, cameras — and he says no.
Is this dinner too tacky for The Donald? What could he possibly be doing instead? Is he at home, eating a Trump steak, tweeting out insults to Angela Merkel? What's he doing?
And Obama hit on Trump's total lack of experience, too: "There's one area where Donald's experience could be invaluable, and that's closing Guantanamo," he said, setting up a dig on some of Trump's failed real estate ventures. "Because Trump knows a thing or two about running waterfront properties into the ground."
No president has skipped the White House Correspondents' Dinner in more than 30 years (the last is President Ronald Reagan, who was recovering from an assassination attempt). So, it's tough to know for sure exactly how this modern iteration of the dinner will go down without the president. But history shows that there will likely be jokes made at his expense — and that he'll eventually tweet about the whole thing.