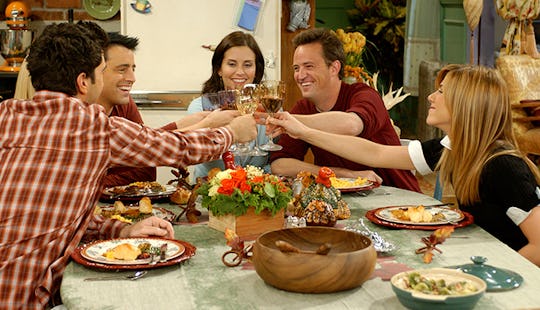 7 Lessons The 'Friends' Thanksgiving Episodes Taught Us About Life, Love, & Food
Thanksgiving is a time for tradition and nostalgia, a time when we look back on the things we're grateful for and when we engage in our favorite traditions. Some people cook with their family, others watch football, and some people, like me, marathon the Friends Thanksgiving episodes. Beginning from season one, and continuing through all ten seasons, Friends always aired a Thanksgiving episode, and they each had a lot to teach us — about the friends themselves — and about our own lives.
While Friends was far from perfect (how did they never have a single non-white friend, despite living in New York City for over a decade?), at its core, it is about the relationships we build over time. Friends is about the people we love, the ones who love us back, and the chosen families we create. In the characters of Friends many of us see ourselves — or people we know. Other people may not see a world that reflects one they are familiar with, but it provides an escape into the stories of the people on the screen.
Over the course of the series, viewers watched these characters go from people who sort of knew each other, to people who would (and often did) do anything for each other. I came to look forward to the Thanksgiving episode each season, and they are still some of my favorites of the entire series. When we watching the Thanksgiving episodes of Friends, here are just some of the lessons you can learn