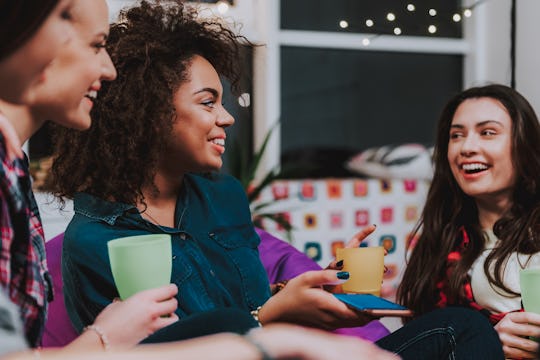 Shutterstock
7 Qualities To Look For In A Mom Friend, Because Building A Village Is Necessary
A good friend is worth their weight in gold, but a good mom friend is absolutely priceless. The trials and tribulations of motherhood bring about certain challenges that only other mothers can relate to, which is why there are certain mom friend qualities you need to look for. Things like trustworthiness, relate-ability, and humor are all essential on the list of things to look for in a mom friend.
Although it can be tough to think about adding one more thing to your ever-expanding to-do list, if you don't have a mom friend or two, finding one can be beneficial to your mental health. "Sharing similar experiences with others creates a culture of normalizing, which is a very powerful tool for coping with a challenge. And make no mistake, motherhood is a challenge," Laura Jordan, MA, LPC, LMFT, a therapist specializing in maternal and reproductive mental health, tells Romper. "Normalizing happens when we hear others talking about their experience — it resonates, and in this we feel less isolated. Early and new parenthood, especially, can be incredibly isolating. Normalizing and making quality friends combats the isolation that can occur, which alleviates and/or mitigates mental health issues that can happen as a result of isolation."
So, when you start looking for a mom friend who can fulfill this role for you, keep in mind these qualities that you need in a mom friend.