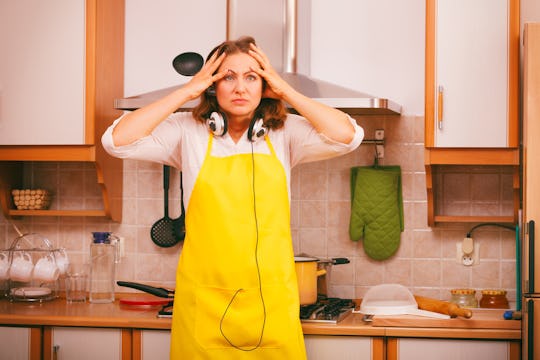 Fotolia
7 Moms Share The Most Absent-Minded Thing They Did, Thanks To Mommy Brain
Before children, my memory was nearly spotless. I could recall grocery lists, every last childhood conversation (well, almost), and why I walked into a room at any given time. Now? Yeah, now I can't remember what I had for breakfast. In my ten years of parenting, I've done some absent-minded things, thanks to mommy-brain and as a result I'm a true believer in the body's need to rid itself of whatever it deems "unimportant," like your PIN number, to make room for things like making sure your children, you know, stay alive.
This forgetfulness can be caused by a number of things and, in my case, it's always been my habitual need to multitask. Sleep deprivation, lack of exercise, poor diet, anxiety, and stress can literally erase things from your mind — at least temporarily. When my kids were infants and the mommy-brain was in full effect, there were times I couldn't remember where I last put the keys (I still do this), or my phone. I ended up forgetting the names of people I know very well, discounted memories of events from recent history, and would have to check and double check if I'd paid certain bills, locked the door, or turned off my hair straightener.
While it was worse during pregnancy and immediately after giving birth, I still suffer from, and blame, mommy-brain on the regular. With our kids' intermixing schedules, work, and my brain's need to still, you know, keep the kids alive, I don't have room to remember much of anything else. Thankfully, I know I'm not alone.