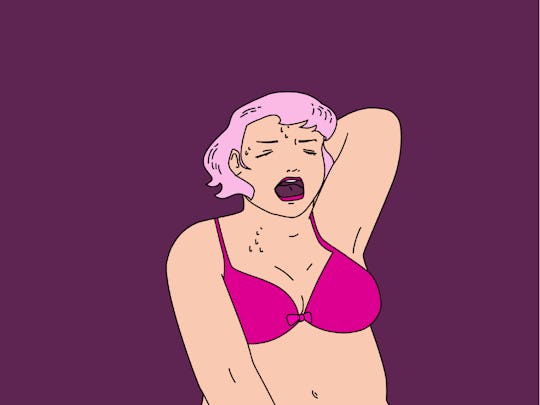 Allison Gore/Romper
7 Myths About Sex & Breastfeeding To Bust Before You Hit The Sheets
Breastfeeding changes everything, including your sex life. But is that because of breastfeeding or because, you know, you're mom to a newborn now and that's what happens? Although there is plenty of truth that being a mom in general can affect your sex life, there are some myths about sex and breastfeeding that can both lull moms into a false sense of security and scare the h*ll out of them, just in time for the green light for sex from their doctor.
In research published in The Journal of Perinatal Education, researchers concluded that while breastfeeding has some ramifications for having sex, it doesn't have to end your sexual relationship with your partner. The research noted that maintaining a healthy relationship with your SO is just as important as nurturing your child the best way you can. You can do both, despite the circumstances.
But still, there are plenty of myths out there that make sex as a breastfeeding mother seem like the worst thing ever and there are myths out there that make sex as a breastfeeding mother seem like the easiest thing ever. Although some couples may not notice a huge change (every mom is different after all), others may find it difficult to get it on after using your breasts to feed a tiny human.
So banish these seven myths about sex and breastfeeding from your mind so you can reignite your relationship with your SO without feeling like it's totally impossible.