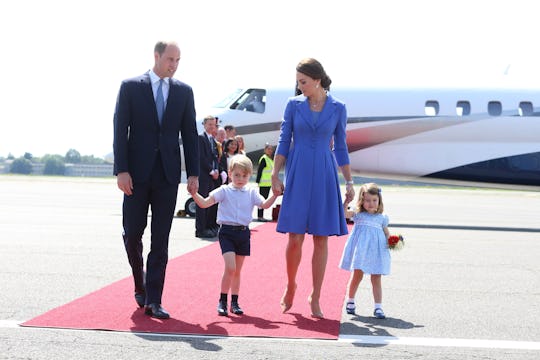 Pool/Getty Images Entertainment/Getty Images
7 Parenting Techniques The Royal Family Seems To Swears By That Are Both Simple & Brilliant
Have you ever looked at those sweet little royal children, Prince George and Princess Charlotte (and now, of course, little Prince Louis!), and thought to yourself, How? How do their parents get them to not only wear incredibly fancy clothing but also stay relatively well-mannered in high pressure situations? They're so little, and they basically already have very public jobs. How do the little royal kids stay so cool and calm? Well, it turns out there are some pretty brilliant parenting tricks the royal family swears by, and each mother has her own way of doing things within that framework. No pressure for the Duchess of Sussex, of course, but she might want to jot a few things down, just in case.
It has been just over a week since Prince Harry married American actress Meghan Markle, and royal watchers all remember the wondrous spectacle. The horses, the dress, the emotion, and perhaps best of all, watching 4-year-old Prince George and 3-year-old Princess Charlotte walking down the aisle as page boy and bridesmaid. While Prince George was a little shy, the two children (along with eight other tiny page boys and bridesmaids) held on to their composure during the service. Princess Charlotte even managed to wave at the crowd, while Prince George reportedly comforted a nervous little bridesmaid behind the scenes, as Town & Country reported.
They are remarkably well-behaved... and there's apparently a good reason behind that. Their parents, the Duke and Duchess of Cambridge, have made parenting their three children (Prince Louis was born in April) a top priority. And they've managed to find a few tried-and-true parenting tricks along the way.
Crouching In Heels
Both Kate Middleton and her husband of seven years, Prince William, are big fans of getting down to their kids' level when having a discussion. There are hundreds of pictures all over the internet of each of them crouching to have a chat with their kids, although Middleton does it in heels so she gets extra kudos. Why might they do this? According to parenting expert Dr. Debi Gilboa who spoke with TODAY, it's all about eye contact, explaining:
Eye contact is remarkably powerful and effective. Our kids have a pattern of knowing when they see our face they have our attention. And the opposite is true as well.
Active Listening
Kate Middleton also appears to practice active listening, according to the Daily Mail, which is a relatively new parenting technique with a simple premise: listen to your kids and make sure they know they've been heard.
Getting Honest About Feelings
Both the Duke and Duchess of Cambridge have made talking about feelings a priority in their family, as Prince William told CALMzine in 2017:
Catherine and I are clear that we want both George and Charlotte to grow up feeling able to talk about their emotions and feelings. Over the past year we have visited a number of schools together where we have been amazed listening to children talk about some quite difficult subjects in a really clear and emotionally articulate way —something most adults would struggle with.
Being A 'Naughty' Mom
Princess Diana died in 1997 when her two sons, Prince William and Prince Harry, were just 15 and 12 years old, respectively. But she still managed to make a lasting impression on the British monarchy with her parenting style. Particularly her own sons, of course. Prince Harry affectionately referred to his mother as "the naughtiest of parents" in a 2017 HBO documentary about her life, according to People. Both he and his brother praised their mother for bringing fun into their life. According to People, he explained:
She was very informal and really enjoyed the laughter and the fun. She understood that there was a real life outside of Palace walls.
Keeping Things Normal
Growing up as a royal isn't always easy, and Princess Diana wanted to make sure her sons understood that it was OK to want to be normal sometimes, as Prince Harry once noted, according to E! News:
She made the decision that no matter what, despite all the difficulties of growing up in that lime light and on that stage, she was going to ensure that both of us had as normal life as possible. And if that means taking us for a burger every now and then or sneaking us into the cinema, or driving through the country lanes with the roof down in her old school BMW to listen to Enya I think it was... part of her being a mom.
Keeping Things Private
Queen Elizabeth II became the reigning monarch when her two oldest children, Prince Charles and Princess Anne, were still very young. She took on a mountain of responsibilities, and admittedly had to pass some of the child raising responsibilities along to nannies, according to The Globe & Mail. But she was quite firm about keeping the private lives of her four children (she's also mother to Prince Andrew and Prince Edward) just that; private, according to Town & Country. The queen didn't share every detail of their days and allowed them to grow up as far from the spotlight as realistically possible.
Encourage Their Passions
Queen Elizabeth has long been a devoted equestrian, and she passed on her love of horses to her children, Princess Anne in particular, according to Good Housekeeping. The queen has always encouraged an active love of nature in her children, which has served them well in later life. And the legacy continues with Prince George, who the Daily Mail reported is already taking horseback riding lessons.
So here's my general takeaway from parenting as a royal: Listen to your kids. Dress them in fancy clothes sometimes, sure, but also let them goof off and be normal once in awhile. Protect their privacy, teach some good manners, and help them find their passion.
Pretty much like regular parenting, but on a much grander scale.