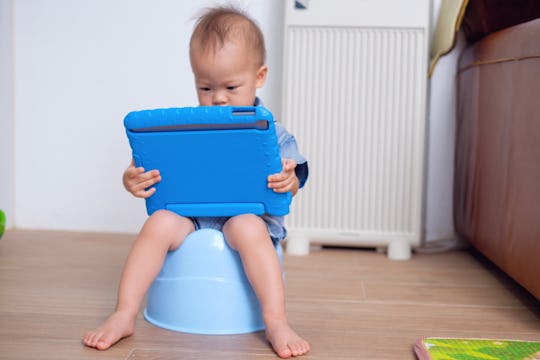 yAOinLoVE/Fotolia
7 Potty Training Apps For Toddlers That Are Sure To Give You A "Leg Up"
Ask any parent and they'll tell you that potty training is the worst. It's especially difficult when you don't know where to start, or the right way to motivate your kid to reach potty training success. Luckily, times have changed since I potty trained my older kids and now there are tons of great potty training apps for toddlers that, if used properly can help them and their tired parents get through the experience relatively unscathed. That's the parenting dream, my friends.
When it comes to picking the perfect potty training app for your toddler, it really depends on their personality and what kinds of things motivate them. Apps like PBS Kid's Daniel Tiger's Stop & Go Potty and Sesame Workshop's Potty Time With Elmo feature familiar faces, games, music, and videos designed to make potty training feel like a game. Other apps, like PBS Kid's Daniel Tiger's Neighborhood: Play At Home With Daniel or Joy Preschool Game's Dino Bath & Dress Up, are not solely focused on potty training, but include a variety of learning games on other toddler-related topics like bath time and bed time. If books are your kid's thing, there's an app for that, too. The classic children's book, Once Upon A Potty is now available in app form, for your toddler to read along and learn to sing the "Potty Song."
Potty training is hard, for parents and kids alike. Fortunately for toddlers, there are now a few apps out there that might even forget they are learning something new. Check them out.