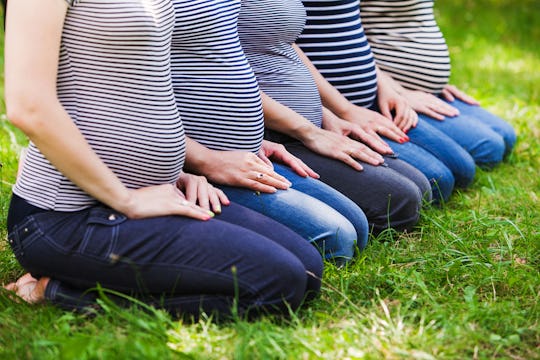 Fotolia
7 Questions Friends With Different Parenting Styles Should Ask Each Other
We all parent differently, but it's safe to say that (most) of us have the same goals in mind when it comes to raising our children: that they're happy, healthy, functional, and turn into kind adults that contribute to society. While we all have that end goal in mind, many of us choose to take very different routes to get there, meaning even our closest mom-friends will end up deciding to parent differently than we do. Because there are so many ways to be a mother, there are questions friends with different parenting styles should ask each other, to ensure those differences don't end up being the reasons why a cherished friendship comes to an end.
For some, being a good parent means practicing attachment parenting, while others might prefer free-range parenting. Some parents don't second guess their children's vaccinations, while others are very adamant in their anti-vaccination beliefs. There are organic parents, helicopter parents, strict parents and laid back parents. There are spiritual and religious parents, parents that co-sleep and parents that sleep train. I mean, there are simply all sorts of men and women with varying beliefs and parenting methods, but they all have something very important in common: they all want the best for their babies.
Sadly, that commonality is discarded while disagreements and disputes over what the "best parenting method" actually is (usually) take over. I mean, have you visited any parenting forums lately? The internet is filled with varying opinions that, often times, spark some pretty intense, and even hurtful, debates. If we could just start listening to one another and stop attempting to push our own ideas onto other people, we might just learn something of value that actually assists us during our own parenting journey. If you've got friends with different parenting styles, try taking the time to listen and learn about how and why they've decided to raise their children that particular way. Even if you don't necessarily agree with every decision they make, every parent could use the support of others who may view the multifaceted world of parenting just a little bit differently than they do.
Which is why, if you're face-to-face with a friend who parents differently than you do, try asking them these seven questions. Just because someone decided to parent differently, doesn't mean they won't continually support you or care about you and, inevitably, want what's best for you and your kid.