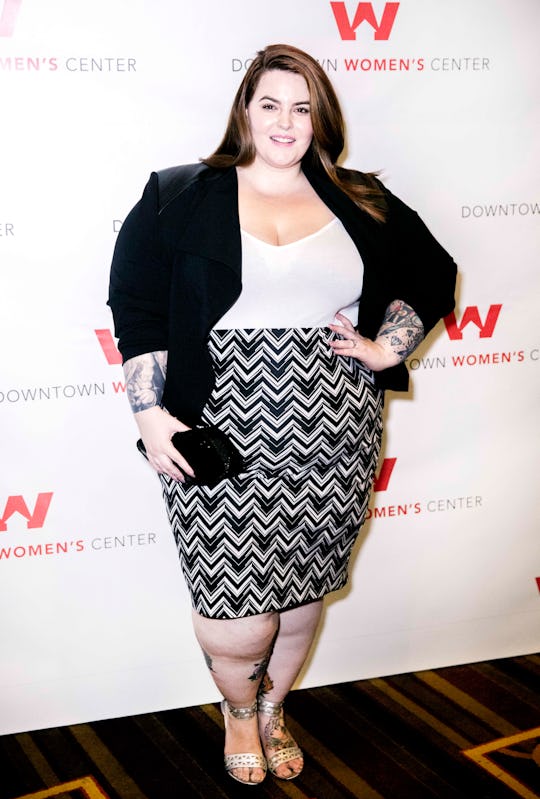 Mark Davis/Getty Images Entertainment/Getty Images
7 Quotes From Tess Holliday About Becoming A Mom & She's Killing It
I have to confess something to you guys; I have only boarded the unstoppable Tess Holliday train in the last month or so. Not because I didn't like her, I just hadn't heard of her (I know, I'm so sorry). And now I simply cannot get enough of her. Not just because she's got amazing style and is a strong woman who is continually pushing the boundaries of what I like to think of as "polite beauty", but because she's clearly fearless in every corner of her life. Parenting is no exception. These seven parenting quotes from Tess Holliday are yet another example of her unapologetic authenticity.
The plus size model and body acceptance advocate had a pretty tough childhood herself. Holliday's grandmother, Carolyn Tadlock, told The Daily Mail about her childhood growing up in a trailer park in Laurel, Misissippi and dropping out of high school at 17-years-old. Holliday was a young single mom working at Wal-Mart named Ryann Hoven when she decided to rename herself and go after her dream of being a plus size model, much to the amazement of her family;
To us it's unreal what she's made of herself. It's phenomenal. We're proud of her. She's done so well for herself and it's taken her a lot of struggle to get there. She had a hard time as a kid. She's been through a lot.
Clearly, Holliday knew she was destined for greatness. She has gone on to become one of the biggest names in modelling, size be damned, and is now happily engaged to fiancee Nick Holliday. She is also the mother of two sweet little boys; 10--year-old Rylee and new baby Bowie Juniper Holliday. She frequently takes to social media to gush about the young men in her life, and she always has something interesting to say.