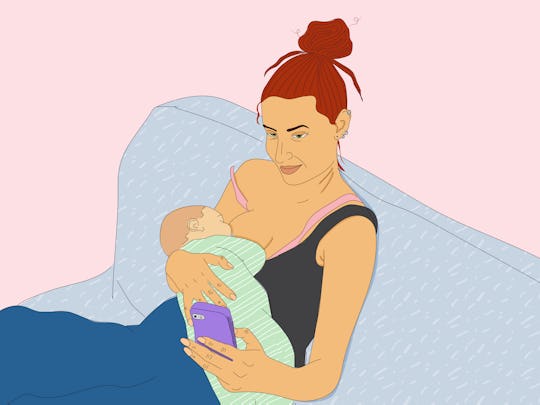 Caroline Wur/Romper
7 Real Breastfeeding Questions On Sore Nipples, Lip Ties, & More, Answered By Experts
Breastfeeding can be a hard, isolating, and emotional journey, which is why it's so important to have support. That's why Romper launched a Facebook breastfeeding community, Breastfeeding TBH — to help make feeding another human being with your own body a little easier. Every day readers ask questions because, let's face it, breastfeeding is complicated, and each week in Rack Facts, Romper speaks with a lactation consultant to answer as many of those questions as possible. After all, everyone can use a little expert help, especially when it comes to feeding your kid.
Have you ever asked your friend for help with parenting, diaper rashes, or breastfeeding, and been so confused by their answer that you wish you hadn't asked at all? I think this happens to me most of the time I ask someone else for advice. The reason isn't because you're a jerk who think your friends know nothing, but because everyone has their gut instincts. When you're asking for advice, what you're really hoping is someone will say what you're already thinking. When they offer a completely different solution, it totally throws you off.
Especially when it comes to breastfeeding. Breastfeeding is full of techniques, sure, but it's also a lot of listening to your gut and trial and error. When you're having problems, asking friends can give you conflicting answers. That's why I stand by asking a professional for help. These lactation consultants know their stuff and can give you the answer you're looking for without worrying that it won't work for you and your baby.