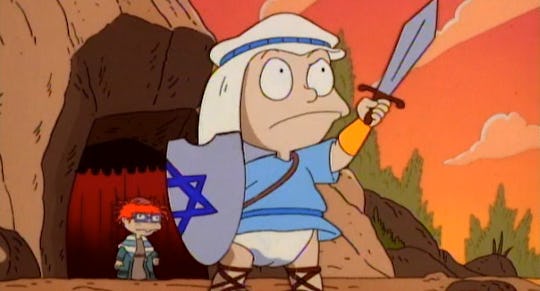 7 Reasons 'A Rugrats Chanukah' Was The Best Episode Ever (One Word: Maccababy)
December TV is filled to the brim with holiday specials. However, those holiday specials are less like "holiday" specials and more like "Christmas" specials. Holiday season can be a very lonely time for Jewish kids across America, as television is a landscape of Christmas spectaculars, everyone is waiting at the mall to take pictures with Santa, and every friend of yours has a giant tree in their house. Thankfully, there have been a few Chanukah specials on TV over the years. But none of them compare to the Rugrats Chanukah episode, which was the absolute best.
Rugrats had several Jewish writers on staff, which led to "A Rugrats Chanukah," an episode that first aired in 1996. (They also have a Kwanzaa episode in a later season, proving that the Rugrats were the most diverse babies on the block.) In traditional Rugrats fashion, they tell the story of Hanukkah through the eyes of the babies at the center of the series. If you celebrate Hanukkah in your home, like we do, watching the Rugrats episode with the kiddos is a great holiday tradition, and a way to show them an example of their culture being represented on TV. If you don't celebrate Hanukkah, the episode is a great way to help teach children about and normalize other religions that some of their friends might practice.
Either way, the Rugrats Chanukah episode is the best episode ever, and here are seven reasons why.