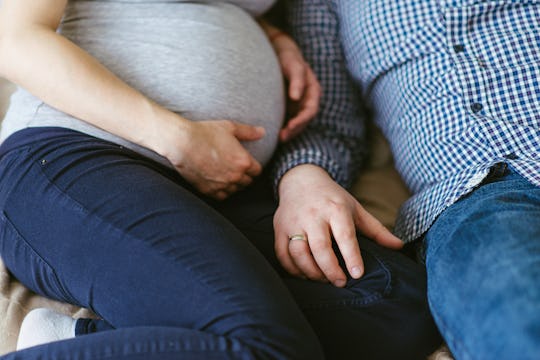 Shutterstock
Here Are 7 Reasons You Should Absolutely Be Having Sex In Your 2nd Trimester
Sex during pregnancy can be a touchy subject (no pun intended). Whether your first trimester was a breeze or an abomination of bloating and barfing, things can take a turn — for the better, thankfully— during your second trimester. This shift, in turn, might start to rekindle some sexual feelings within you. You might not need reasons to have sex in your second trimester, but it's still nice to know why it can be good to get it on, especially during this time.
Of course, you shouldn't feel pressured to participate in sex if it's painful or you're just not feeling it. But if you're game, you should be good to get down in your second trimester. "Unless a care provider has informed you that sex during pregnancy is unsafe for you (a placenta previa or high risk for preterm labor, for example), then pregnant people can enjoy sex whenever they are interested in having it throughout pregnancy," says Megan Davidson, Ph.D., a labor and postpartum doula. "By yourself or with a partner, exploring how your body is changing can be a pleasurable part of pregnancy."
For me, second trimester pregnancy was the best. I loved my curves, wasn't too sick to jump in the sack, and actually had the energy to enjoy it all. So be sure to squeeze in a little nookie during your second trimester. Let us count the reasons why.