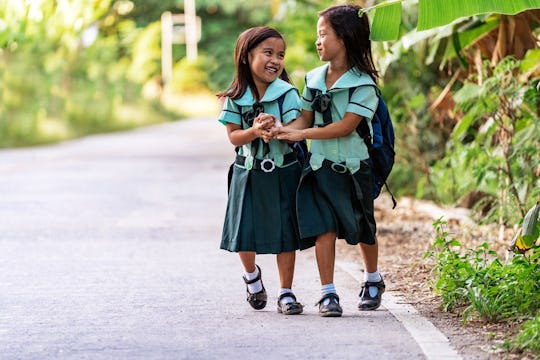 Santi Nunez/Stocksy
Why It's So Important To Me That My Daughter Values Her Female Friendships
One value I want both my children to incorporate into their lives is feminism. I think I do a pretty good job modeling and being conscious of setting a feminist example in the day to day, especially when it comes to demonstrating the importance of female friendships... an aspect of feminism I truly want my daughters to nurture and appreciate as they grow into women.
Every day, for a little while after school pick-up, my daughter plays with her friends around the big old oak tree in front of her school. The other parents and I have marveled at how well everyone always gets along. Everyone is friends with everyone else — no one is excluded, and my icy, cynical heart thaws just a little bit as I watch pure childhood magic. Right now, my child's friends are evenly mixed between boys and girls and I really do hope it stays that way. But, if my anecdotal experience and observations of kids are anything to go by, her friend group will probably become at least a bit more segregated by gender. And when that happens, and little gendered subcultures start to develop, I want my daughter to know that there can be a strength in the bonds that will form and deepen between her and her female friends... because the alternative messaging about what her girl/girl friendships have to be and mean can be toxic and really yucky.
Here's why I want her to know that women should support other women...