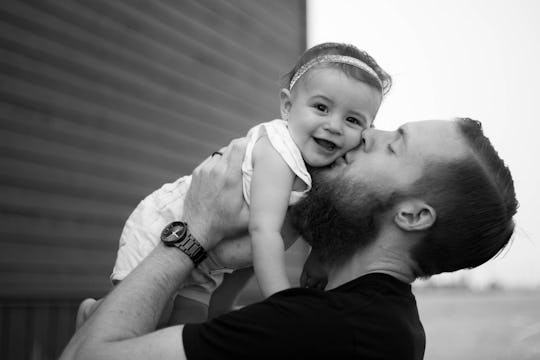 Chris Price
7 Signs Your Husband Is A Feminist, Whether He Calls Himself That Or Not
True story: My husband called himself a feminist long before I did. In fact, I've known him since he was 13, and I've never known that not to be an important part of his identity. According to him, he does not remember a time when that wasn't. (I know, I know: some ladies get all the luck, and by "all the luck" I mean "all my husband" and by "some ladies" I mean "me.")
If you knew him and where he comes from, this all makes perfect sense. He has described both sides of his family as "matriarchies." He was raised by a remarkable mother who oozes strength and perseverance out of every pore, who extolled the importance of gender equality and feminism from his earliest years. Me? Despite a similarly badass mother and personal espousing feminist ideals, I was less willing to take on the title. By the time we started dating, however, we both had full-diesel feminism coursing through our Liberal veins going straight to our compassionate, bleeding hearts.
Do you know what it's like to date (and then marry) a raging feminist? Effing awesome. It's like Elizabeth Cady Stanton and bell hooks doing a tango in your soul to the musical stylings of Missy Elliot. Do you know what it's like to raise children with one? Effing awesomer, like a Mooncup emblazoned with a picture of all the Golden Girls being delivered to your door by noted feminist hotties Jon Hamm and Amber Rose as they hold a basket full of kittens.
"That sounds great!" you say, "Do you think my husband (or boyfriend) could become a feminist?" What a great question! The answer is yes, of course he could. But let me ask you a question: Is there a chance that he's already a feminist? Here are some telltale signs that you may have won the spousal and co-parent jackpot.