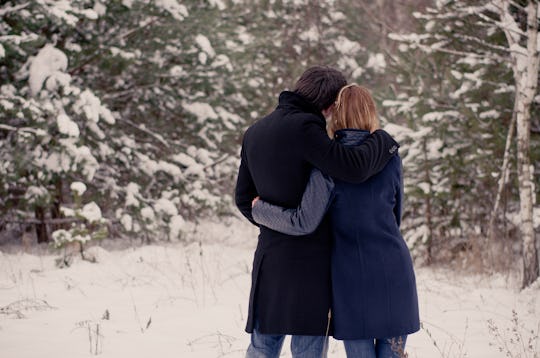 Wyatt Fisher
7 Signs Your Relationship Is Feminist (And You Honestly Can't Imagine It Any Other Way)
Have you ever, in the quiet moments between you and your beloved, gazed at them from across the couch only to realize that they are gazing back at you? And as you smile at one another, legs entwined under a cozy blanket, books on your laps, think, "This is so wonderful... but would Gloria Steinem approve of us partnership? Is my relationship feminist?"
Full disclosure here: I am in a heterosexual marriage. (I'm a cis-lady, he's a cis-dude. Those are the very official, technical sociological terms, obviously: "cis-lady"/"cis-dude".) I do not feel I have sufficient experience or authority to speak to what feminism looks like in a relationship outside of that particular gender combination, so for the purposes of this article, I will be talking about feminist relationships in a cisgender/heterosexual relationship. And I know what you're thinking: "Well, um, OK, that's a bit limiting right out of the gate." Yes, it is. But I'm only one person who can only speak with any authority on the experiences and identities that I can claim, so we all just have to live with the inherent limitations with that. This isn't based on a desire to diminish or erase anyone else: it's based on my desire to respect that I wouldn't know WTF I'm talking about and I don't want to speak for groups to which I may not belong. (If you do know WTF you're talking about, please write that article, because I would read it and tweet it and everything.)
But I do know a thing or two about being in a feminist relationship, and let me tell you, it's the bee's knees. The cat's pajamas. The... something... belonging to... another animal. (Seriously, where do people come up with this turns of phrase?) Here are a few signs you know what I'm talking about.