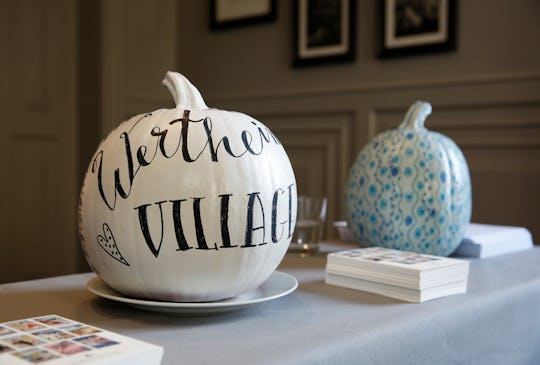 Sebastian Reimold/Getty Images Entertainment/Getty Images
Ditch The Knife & Try These 7 DIY Stencil Pumpkin Ideas This Halloween
Tired of the same old toothy smile on your jack o' lantern this year? Have you scooped the "guts" out of one too many pumpkins in your day? I'm happy to report that DIY stencil pumpkin ideas are having a moment this fall season. This is great news for those of us whose knife-wielding skills leave a bit to be desired, and who have never managed to toast pumpkin seeds correctly (raises hand).
From constellation map stencils to inspirational quotes and Disney characters, there's no end to the designs you can create using stencils on a pumpkin. And because you're painting within a designated pattern, it's virtually dummy-proof (famous last words, I know). I must say, this video was helpful in figuring out how to tape down your stencil so Martha Stewart will love your pumpkin as much as you do. Hint: rubbing alcohol works as a great eraser just in case there's a mistake!
Leave the knife alone and pull out your paints and paintbrush with these elegant designs that will really raise your Halloween decor up a notch. It's just the inspiration I need to grab a pumpkin at the farmer's market this weekend! Which is your favorite?