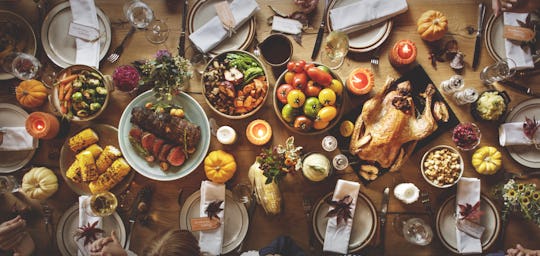 Rawpixel.com/Shutterstock
These 7 Classic Thanksgiving Dishes Can Cause Inflammation, So Take It Easy
Thanksgiving is one of those holidays when we give ourselves guilt-free permission to indulge. Come on —how many opportunities do we have to eat two kinds of potatoes, mac and cheese, and three desserts at the same dinner? Still, it pays to be aware that the typical Turkey Day feast isn't exactly health food. If you're trying to avoid paying for your indulgence with pain, weight gain, and other health issues, you'd be wise to limit your servings of Thanksgiving foods that increase inflammation.
Inflammation is the body's natural response to injury or foreign invaders such as allergens, explained WebMD. White blood cells rush to the affected area to fight off infection, causing the redness and swelling we see around a hangnail or paper cut. Normally, the inflammatory response stops when the injury or invader is gone. However, sometimes the immune system goes into overdrive and inflames healthy tissues, causing autoimmune disorders such as arthritis. Chronic inflammation has also been linked to diseases such as diabetes, Alzheimer's disease, heart disease, and cancer, according to Harvard Medical School. As if that weren't enough, inflammation interferes with your insulin resistance and metabolism, nutritionist Alex Caspero, RD, told Women's Health.
Researchers have found that certain foods are linked to chronic inflammation, explained Eat This Not That, and that reducing your consumption of these foods can lower your risk for inflammation-related illness. The bad news: Many of these foods play starring roles on your Thanksgiving table. While we'd never suggest ditching your traditional feast for a dinner of salad and berries, it might be helpful to know which holiday foods are linked to chronic inflammation, and think about enjoying them in moderation.