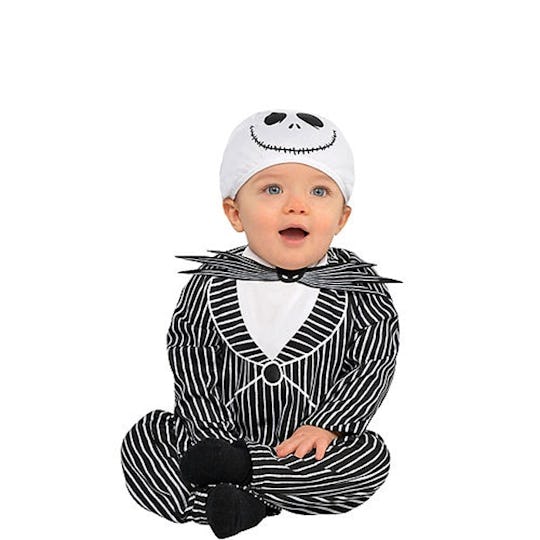 Party City
'Nightmare Before Christmas' Costumes To Make The Whole Fam Halloween Town Citizens
What's this? What's this? It's a whole bunch of totally awesome The Nightmare Before Christmas costumes, that's what. Who among us doesn't love this stop-motion classic about a discontented skeleton seeking fulfillment and acceptance via Santa Claus? You'd have to be a monster more vile than the Oogie Boogie man not to dig this Tim Burton masterpiece.
I remember when the film came out, one of my friends attempted to be the creepy, sewn-together Sally for Halloween, using only some Mary Kay pancake make-up and an eye pencil. Alas, the end result was unfortunately a bit more Leatherface from Texas Chainsaw Massacre. Who knew that 26 years after the film's release (26 years!) it would still have such a following that Party City would dedicate an entire line to Jack Skellington and friends?
I have to say, the costumes on offer are a delight. Like I kind of want to buy a pair of the Party City Skellington gloves with the extra-long pointy fingers just to wear around the house to freak my kid out. They might also be a hit at the school welcome breakfast. I'd love to be eating a donut with 6-inch bone fingers while introducing myself to my son's new teacher...
Below, I round up some of the best of Halloweentown, for any parents out there who'd like to opt for something other than a banana suit this year, or who would like to dress their children as something with a little more flair than Buzz Lightyear.