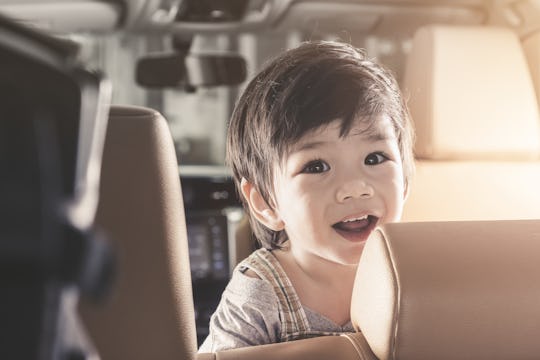 poomsak/Fotolia
7 Things '90s Parents Let Their Kids Do In The Car That No Parent Would Today
Once upon a time, a long time ago in a mid-sized town full of cars, traffic, and speed zones, there was a young girl sitting in the front seat of her parents' car. This girl didn't realize that when she opened the door handle while the car was in motion, it would fly open and the girl — not buckled — would nearly fall to the road. Thankfully, her mom caught her in time, but this is just one example of things '90s parents let their kids do in the car that no parent would today. Because holy hell what in the you-know-what were parents thinking?!
As I'm sure you might have already guessed, I was that young girl who nearly fell to her death while sitting in the front seat of her mother's moving vehicle. I still remember my mother's quick reflexes that allowed her to pull me up from that empty pocket of air I faced as the door swung open. As a result of her ninja-like reflexes the car swerved, nearly veering off the road, which was dangerous in and of itself. Still, I was saved in the nick of time. Phew.
Sadly, this was a common occurrence in "those" days, because car safety wasn't what it is now. Like, I don't remember ever wearing a seatbelt and, if I did, there were a number of other questionable car shenanigans my younger brother and I got away with that, as a mother myself now, I can only gasp at. So #sorrynotsorry to throw all you '90s parents under the proverbial bus, because here are some of those cringe-worthy "parenting decisions" you all made that modern parents wouldn't dare choose for themselves or their children.