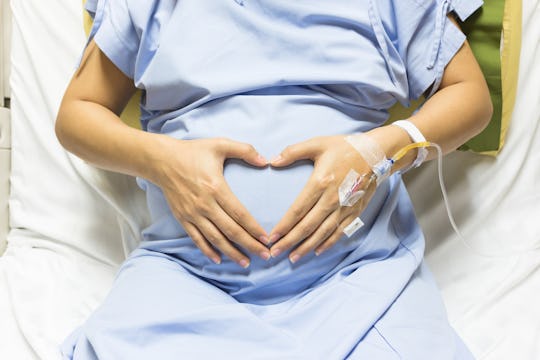 Fotolia
7 Things A Woman Shouldn't Have To Ask For When She Has A High-Risk Pregnancy
When I discovered I was pregnant with my first child, I had no idea what would end up transpiring. I experienced all the "typical" early pregnancy symptoms, like morning sickness and fatigue, but down the line things got complicated to the point I was labeled "high risk. I didn't have the luxury of family or friends to help, and my partner wasn't always "enough." Thinking back, there's a lot of things a woman shouldn't have to ask for when she has a high risk pregnancy because, honestly, it's just freakin' unfair.
I don't blame my partner for not stepping up the way I needed. We were both young and the pregnancy was unplanned. He took on a full-time job and worked more hours than he ever had, and I appreciate that. Still, living hours away from family and friends left me in a lonely, miserable state, so once the doctor officially slapped on the "high risk" label, those feelings only intensified. I'd developed dangerously high blood pressure, so the simple act of standing on my feet for any length of time put our baby at risk. However, things still needed done; things like cleaning, cooking, and all the other household chores we'd taken for granted when I could accomplish them without repercussion. Towards the end of the pregnancy, I'd be put on bedrest and have to be induced a couple weeks early.
Five years later, my second pregnancy wasn't all that different. I was put on bedrest much earlier, my baby labeled a "threatened abortion," and after losing nearly all of my amniotic fluid, I was induced again. My body didn't seem to like pregnancy all that much but, thankfully, both of my children were healthy upon arrival (minus a bit of jaundice and reflux issues). There are times my partner and I think of having another, but then I remember how difficult my pregnancies were and how lucky that my babies, and myself, survived.
With that, there are plenty of things I wish I never had to ask for. During an already stressful, draining period of my life, it's frustrating to constantly request what is nothing short of obvious. I always felt like I had to do everything my damn self or it wouldn't get done (hence the elevated blood pressure and high risk). So, with that in mind, here are some of the things no woman should have to ask for when going through the same. Ever.