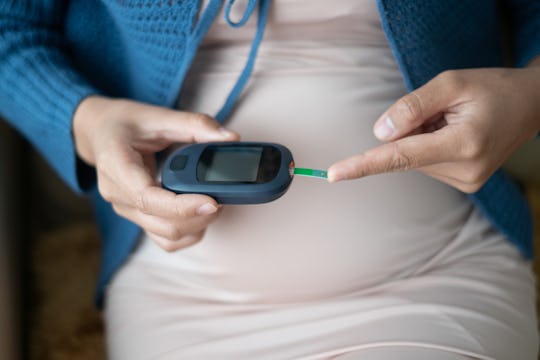 Shutterstock
7 Things Doctors Really Want You To Know About Gestational Diabetes
Finding out that you have gestational diabetes (GD) can be both scary and shocking. It means months of carefully watching what you eat, checking your blood sugar, or even taking insulin or other medications. But while all that can sound incredibly daunting, it doesn't have to be. One of the most important things doctors want you know about gestational diabetes is that it's completely manageable.
"I like to tell moms... by far the most likely outcome of their pregnancy is a healthy mom and a healthy baby, even with the gestational diabetes," Dr. Sarah Dotters-Katz, a maternal fetal medicine specialist at Duke Health, tells Romper.
Your doctor and/or dietician will help you come up with a meal plan that should help your blood sugars in check. That usually means counting your carbs and starches, and avoiding sweets and sugary drinks, according to a pamphlet published by the National Institutes of Health. And while sticking to that plan can sometimes be a struggle, Dotters-Katz says it's important to just do the best you can. "Nobody's perfect. Your nutritionist is going to talk to you about this new dietary regiment, but if once a week you want to have a cookie... that's OK."
Here are 7 more things doctors want you to know about gestational diabetes, so you can have as happy and healthy a pregnancy as possible.