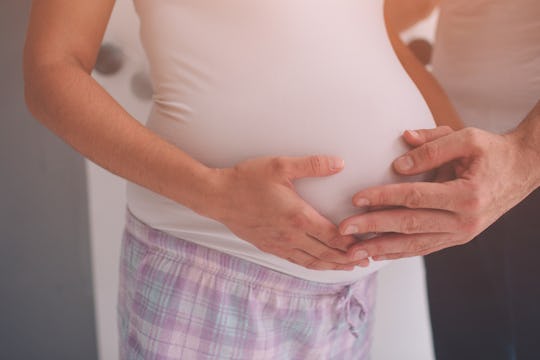 estradaanton/Fotolia
7 Things Every Grown-Ass Man Says About His Partner's Pregnant Stomach
Pregnant bellies are pretty damn incredible if you ask me. Not only are they capable of housing a growing fetus, but they grow and stretch in order to protect actual life. I mean, that's incredible. Still, a woman taking up space in today's society isn't necessarily celebrated, so people have some "feelings" about pregnant bellies that are anything but positive. Thankfully, there are things every grown-ass man says about his partner's pregnant stomach that can counteract all that damn negativity. These things include, but are not limited to: compliments, praise, and glowing reviews of what a wonderful job his partner's body, stomach included, is doing.
The pregnant stomach reminds me of the old adage "if you don't have anything nice to say, don't say anything at all," because your partner should be your rock, your support system, and your validation when you're fighting the constant insecurity 40 weeks of pregnancy, more or less, can bring. So if comments about a woman's pregnant stomach aren't explicitly positive and supportive, they shouldn't be made at all.
I was lucky, in that my partner was incredibly complimentary and told me all the things I needed to hear throughout the duration of my pregnancy. He thought my stomach was a beautiful thing and couldn't wait for it to grow even bigger. He loved placing his hand over those little protruding feet on my bare belly. Rarely did I experience a moment of offense, because when he said he loved me pregnant, it showed. Every grown-ass man should behave the exact same way, and anything less is unacceptable. On that note, here's what every grown-ass man says about that glorious, baby-holding belly.