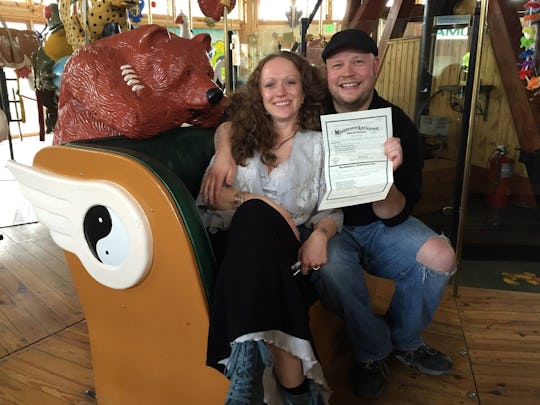 Courtesy Reaca Pearl circa 2015
7 Things Moms Who Waited To Get Married Don't Need To Hear
Marriage is a loaded issue. In the United States it's socially acceptable, and in many cases expected, that before a certain age women "settle down" and get married. Relationships that don't include a marriage certificate are not seen as legitimate as ones that do. As a result, if you're like me and you've been unmarried for most of your adult life, you receive a ton of unsolicited comments about your "future plans." In fact, there's more than a few things moms who waited to get married are so tired of hearing.
Moms come in all shapes, sizes, family dynamics, and gender identities so, of course, my story is my own. I'm sure it's both similar and wildly different than the stories of others, which in no makes it (or any other story) less valid. I am a bi/pansexual, genderqueer AFAB (assigned female at birth). I fell in love with my best friend (15 years ago tomorrow, to be exact) who is a straight, cisgender man. We have been in a monogamous relationship through the ups and downs of this country's economy, the births of our three children, living long distance twice, and life in general. We chose not to get married for the first 13 years of our relationship for a variety of reasons. Reasons which, frankly, are nobody's business.
In the end, and if I'm being honest, to us marriage was an excuse to have an overnight babysitter and a date that lasted longer than two hours. In all seriousness, it is not lost on me how privileged my partner and I were to not have to worry about gaining legal rights to our children, the right to visit each other in the hospital, and having joint property rights. Even before we were married we were pretty sure all of these rights would've been respected if something were to happen to one of us, based on how our culture holds respect for a relationship between someone assigned male at birth and someone assigned female at birth.
Still, that doesn't mean we didn't grow tired of hearing people's comments and questions about our marital status, especially after my partner and I decided to have children, So, without further ado, here are the things those of us moms who waited to marry are sick of hearing.