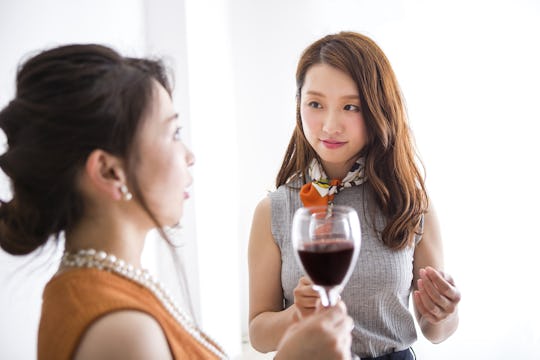 Fotolia
7 Things Society Could Fix For Working Moms, But Let's All Just Drink Wine Instead
Whew. Modern American working moms, isn't it great to "have it all?" It is such a blessing to live in a time and a country where we are so liberated that we can not only earn money, but also do the majority of the child-rearing and household chores. Yes, this new "working mom" thing is quite the balancing act, but it's nothing a little coffee in the morning and wine at night can't help. So, really, we don't need society to fix anything for working moms, we just need a larger glass of wine. Maybe two, depending on the day. After all, Americans tend to celebrate anything "new" with copious amounts of alcohol. (Obviously, I mean "new" in the Christopher Columbus way, where something is new if it's just recently become a thing for affluent white people. Women of color and working class women of all colors have been "having it all" out of sheer necessity since forever, but that just doesn't feel all that chic or magazine headline-worthy when they do it, you know?)
To hear some people tell it, American parents are the least satisfied in the entire Western world, and the happiness gap between us and other parents can be completely explained by our lack of social and workplace supports and blah, blah, blah. Yes, it can be tough to "have it all" sometimes, like when you have to spend a huge chunk of your household income on childcare that makes you kinda nervous, or when you have to hobble back to work less than two weeks after giving birth in order to keep your job. Sure, every industrialized nation has figured out how to make life work better for working families except the United States. But isn't that what "American Exceptionalism" means? Going against the grain? Forging our own path? It's just so liberating, right?
Some moms might want structural fixes for all this stuff, but that just seems un-American. We should all be able to pull ourselves up by our own bra straps, and handle our totally individual, not at all systemic problems like big girls, amirite? After all, women choosing to work is a totally optional, personal choice, so why should the rest of society accommodate your frivolous decision to chase fancy feminist dreams like "not being evicted from your home" and "actually being able to feed your children?"
No, we can totally do it all on our own. Who needs wasteful social interventions like these, when we've got coffee to get through the day and wine to get through the night?