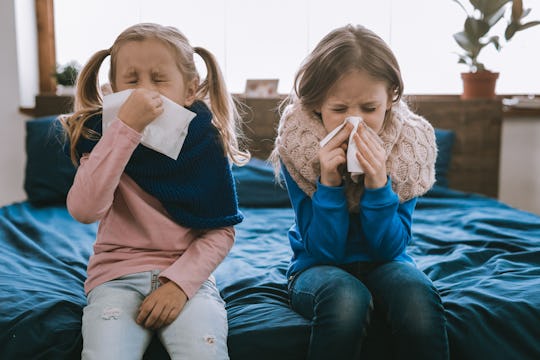 YAKOBCHUK VIACHESLAV/Shutterstock
7 Things Teachers Want Parents To Know About Flu Season, Which Will Peak Soon
Now that winter's here, I and fellow teachers everywhere are running through all the boxes of tissues and bottles of hand sanitizer that we stockpiled back in September. We spend our days helping blow little noses and listening to coughs punctuate our class meetings. But what worries us most is looking at our attendance sheets and seeing a string of "absent" marks for students home sick. The facts about flu season are something we teachers learn early in our careers, and we don't like seeing your children feverish, achy, and miserable any more than you do.
According to the Centers for Disease Control (CDC), between 6 and 7 million people have already contracted the flu this season, and more than 70,000 have been hospitalized from flu or flu complications. And the season is far from over: Many more patients will be visiting the doctor or ER before the danger period has passed in late spring.
With figures this large, it's a pretty good bet that your household will be at risk at some point. There's no absolute way to guarantee your kids will never get sick, but knowing the facts about flu season and prevention will help you arm yourself and your children as best as you can against the disease.