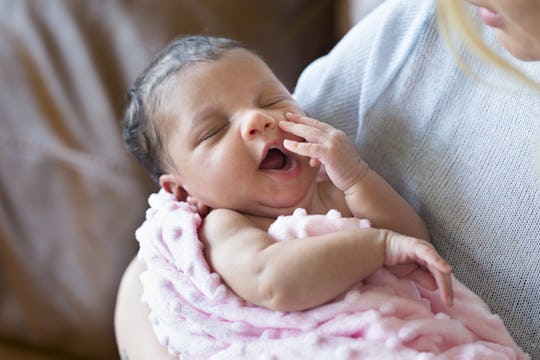 dglimages/Fotolia
7 Things To Know About Sleep Regression In Babies So You Don't Go Crazy
Preparing to be a parent means hearing a lot about sleep. Sleep when you still can. Nap when the baby naps. Try this to help your baby sleep through the night. You've accepted that you're not going to get much sleep with a newborn, but when your baby finally sleeps through the night, you're ready to celebrate. Until they stop sleeping a few weeks later. And then they do it again and again, and it becomes sort of vicious cycle. There are a few things to know about sleep regression in infants, and knowing those things can keep you from spiraling completely out of control. (If you haven't already.)
If you've been a parent for any length of time, I'm willing to guess that you've Googled something like, "baby used to sleep all night or infant no longer sleeping." It's incredibly frustrating to find that your little one was a great sleeper and is now waking several times per night, often inconsolable. When I look back at my daughter's sleeping habits, I know she was going through a regression. She was sleeping through the night until she was around 4 months old and then all bets were off. She was up several hours throughout the night and ended up in bed with me most of the time just so I could catch some Zs. Of course, when it was time for her to start sleeping in her own bed, I had to make some big changes.
The most popular infant regression everyone talks about is the 4 month sleep regression, but your baby may have gone through the regression earlier or later than 4 months. A sleep regression is any time your little one stops sleeping through the night and it doesn't seem to have a cause or reason. They are fussy, they are cranky, their appetite changes, and they are exhausted. Some suggest that a regression happens as your child is going through a big development, like learning to sit up, starting to be more active, or talking. Others say that a regression happens when your child is going through a growth spurt. All parents say regressions suck.
But there are seven things to know about infant sleep regressions to keep you calm and help lessen your frustration. It's extremely hard when your baby won't sleep, but all it takes is some adjusting and a lot of coffee to make it through those infant regressions.