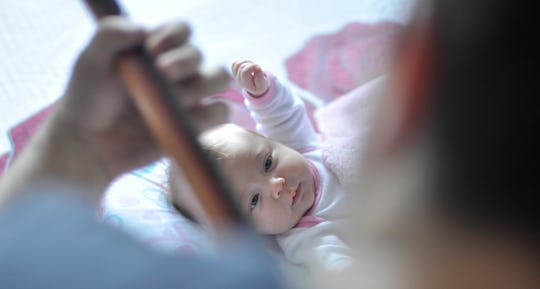 7 Things You Can Do While You're Pregnant To Help Your Relationship Survive Having A New Baby
First things first: I'm not a relationship expert, but I have successfully gotten through having a baby without ruining my relationship (right, dear?) so I think I've got at least a little insight into this whole game. At this point in our lives, my partner and I have just rounded the corner of 11 solid years together (I know, I'm just as baffled by it as you are). I like to joke that our relationship is the same age as a sixth-grader. It has just entered middle school, you guys. I'm sure there's a plethora of awesome metaphors to be made here, but I won't waste your time since most of them involve acne and awkward school dances, and some of us don't like to joke about that stuff.
Anyway, what I'm most proud of in my relationship is the fact that, in all of our years of togetherness, he's only accidentally walked in on me in the bathroom twice. Coincidentally, they both happened after we had a baby. the introduction of a tiny human to your previously all-adult relationship does changes thing, is what I'm saying. And, as prepared as we were, there's still more that we could have done.
I don't assume that anything I have to say about relationships is all that wise, but hey, maybe it might resonate and strike a chord with a few of you. With that in mind, here are some ideas on what you can do during pregnancy to prepare you both for your lives together after the baby arrives. Some of these are things that my partner and I actually did, and some are things that I wish we'd done. And some of them are things that kinda just happened accidentally that, should we have another kid, I definitely want to attempt to do again. With further ado: