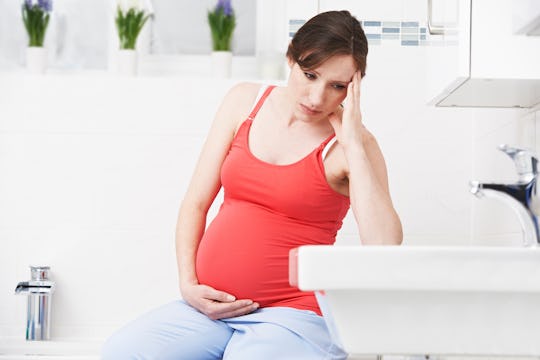 highwaystarz/Fotolia
7 Things You Didn't Realize Are Signs Of Hyperemesis Gravidarum
Although many moms-to-be are able to bypass morning sickness, it's considered a rite of passage for pregnancy. And, in most cases, it's an issue that subsides as your pregnancy progresses and becomes a memory of those early weeks. Unless you have hyperemesis gravidarum. You've probably heard that this condition is characterized by consistent vomiting throughout the entire pregnancy, but there might be some other things you didn't realize are signs of hyperemesis gravidarum and it's always best to stay educated.
According to What to Expect, hyperemesis gravidarum occurs in less than one in 200 pregnancies, but it can be seriously debilitating. Severe cases can lead to dehydration, electrolyte imbalances, weight loss, and malnutrition. Some moms with hyperemesis gravidarum even have to be hospitalized in order to receive IV fluids.
The American Pregnancy Association (APA) noted that there actually may be more cases of hyperemesis gravidarum in the country than recorded as a lot of moms are able to self-treat at home. But that doesn't make it any less difficult to deal with. It can be a very serious condition with dangerous consequences, so it's best to know the symptoms of it so you can get yourself help if needed.
But how do you know if your puking is just morning sickness or a case of hyperemesis gravidarum? These seven things you didn't realize were signs of it are also pretty normal pregnancy symptoms, but when combined with consistent puking, it could be a diagnosis for hyperemesis gravidarum.