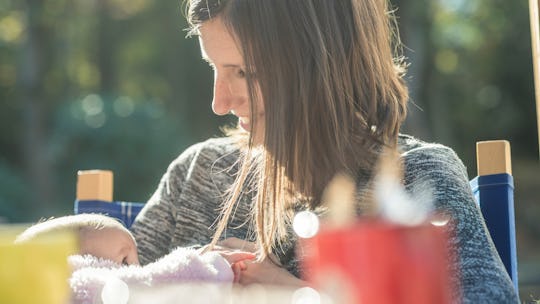 Gajus/Fotolia
7 Tiny Ways My Partner Showed Me He Appreciated Me When I Was Breastfeeding
While breastfeeding is championed as a low-maintenance way of feeding a newborn, you need much more than a boob and a baby to make it work. In fact, without a proper support system nursing becomes exponentially more difficult. For example, I had a hard time getting even the basics down. And because I was simultaneously suffering from postpartum depression (PPD), nursing was a never-ending uphill battle. That's why the tiny ways my partner showed me he appreciated me when I was breastfeeding went a long way. Those small acts of compassion and kindness were the difference between me quitting nursing altogether, and continuing to work toward my breastfeeding goals.
I can't describe my time spent breastfeeding as pleasant, And, sadly, I can't say it was successful either. I did all the things I was told I need to do — talking to the lactation consultant, practicing the perfect latch, breastfeeding as often as possible — and I still felt like a lost amateur at best. And in the end, and due to my postpartum depression, I did ultimately stop breastfeeding. It became too much of a struggle, interfered with the bond I was trying to establish with my baby, and made it damn near impossible for me to practice anything even remotely resembling self-care. And while I did pump so I could feed my baby breast milk via a bottle, I carried a lot of guilt with me because I wasn't breastfeeding like I was "supposed to."
But during those months when I stuck with it, and struggled to nurse the way I had planned, my partner did some small but ultimately important things to remind me that I wasn't in it alone. I never forgot those things, and still cherish the moments when I felt 100 percent supported. No matter what.