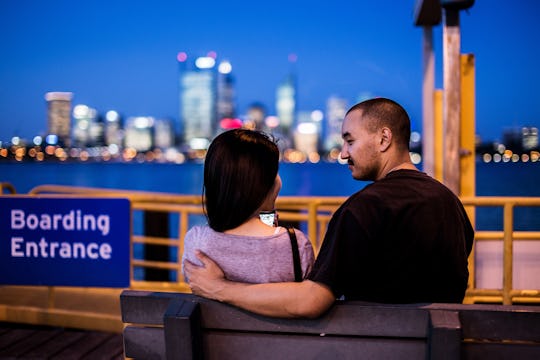 7 Tips For Explaining Feminism To Your Male SO, Since Feminist Partners Are Where It's At
Feminists make the best partners. A feminist significant other will strive for a more egalitarian relationship, and will prioritize your safety and well-being. Not only that, they'll believe you when you talk about your own oppression and marginalization. But if you're dating a cisgender guy, they may not necessarily be stoked about identifying as feminist. However, that may very well be because they don't have a great understanding of what feminism is. Explaining feminism to your male partner can be tricky, but it's totally doable. And how you go about explaining feminism to your male significant other can make all the difference.
I remember one time at a party, I started chatting up a dude and somehow the conversation went in a direction that caused me to say, "Yeah, I'm a feminist." The guy literally took several steps back and said, "Whoa, whoa, whoa. That's a little extreme, don't you think?" He had fallen prey to the many misconceptions about what feminism really means, but he's not alone. Part of the patriarchy's weapon is to make "feminism" seem wholly unappealing to everyone — men, women, and non-binary people alike. The fewer people who identify with feminism, the easier it is to keep patriarchal structures in place. And so one of the tools we can use, as feminists, to bring men over to the Dark Side is to simply explain what feminism is and why it's important.
Many men will probably be surprised to find out that they actually identify quite a bit with the principles of feminism. So if you want to teach your guy what it means to be a feminist, here are some tips for going about it.