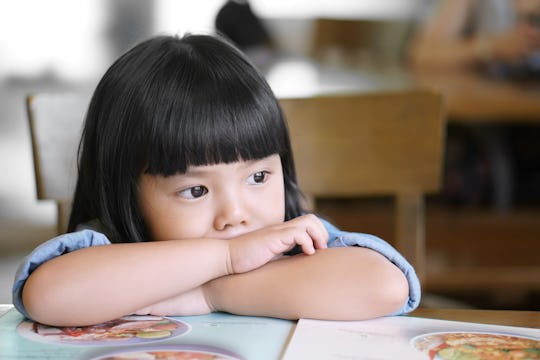 kornnphoto/Shutterstock
Stop Stressing: Here's How To Deal With Picky Eaters At Your Holiday Dinner
I've reached a point where I would kind of like to skip holiday meals. Holiday foods like pie and mashed potatoes used to be my favorite part of the season. Now, as a mom, I just don't know how to deal with picky eating during the holidays. I know my kids will refuse to eat new foods, get hungry (and understandably crabby), and then at least one well-meaning relative will give me unsolicited advice. All of this will make me feel like I just can't win.
I know I'm not alone, but I'm not sure what to do. Like, should I make my picky kids clean their plates or at least try a "polite bite" of everything? Or should I let them eat whatever they want (or are willing to), and make it through what are bound to be stressful holiday meals with my sanity intact? It turns out, the best answer is probably "none of the above." To find out some science-based strategies for addressing picky eating, Romper corresponded via email with Melanie Potock, MA, CCC-SLP, Pediatric Speech Language Pathologist and Feeding Specialist, author of Adventures in Veggieland, and mom of picky eaters.
She recommends some easy, straightforward tips for helping even the pickiest eaters navigate meal time during the holidays (and the rest of the year). Namely, staying calm, sticking to a routine, and being easy on yourself. The holidays are hard enough for moms, without also stressing about what your kids will (and won't) eat at the dinner table.
For helpful holiday mealtime tips, read on: