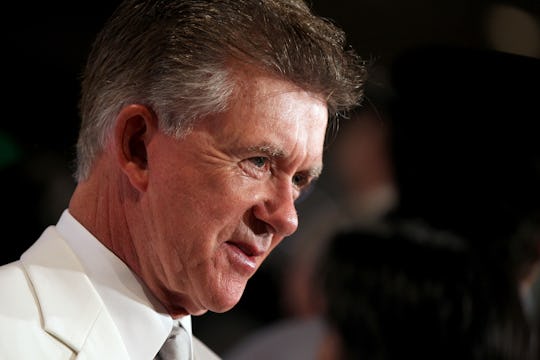 Isaac Brekken/Getty Images Entertainment/Getty Images
7 TV Theme Songs You Didn't Realize Alan Thicke Wrote
On Tuesday evening, TMZ broke the news that actor Alan Thicke died on Dec. 13. As when any celebrity dies, people quickly began digging into Thicke's professional past and discovered a few fun facts about the last actor. For example, did you know there are several TV theme songs that Alan Thicke wrote?
Yes, Thicke is best known for his work in front of the camera. More specifically, for his role as psychiatrist Dr Jason Seaver on the 1980s' hit sitcom, Growing Pains. Though it was that role that put the Canadian actor the on the American acting map, so to speak, it was his work throughout the years the solidified him and a household name. According to IMDB, Thicke had more than 111 acting credits throughout his career, which included roles on hit series such as Married With Children, The Bold and The Beautiful, How I Met Your Mother, and, most recently, Fuller House, where Thicke played a love interest for the not-so-interest D.J. Tanner.
But based on his resume, Thicke clearly had some not-so-hidden musical talents. But unlike his Billboard-success son Robin, Thicke used his talents to create some of the most iconic television theme songs. These seven TV theme songs may not have earned Thicke a platinum record, but they ensured his legacy in the television industry would live on forever.
1. Wheel of Fortune
According to Parade magazine, Thicke wrote the theme to the popular puzzle-solving game show.
2. Celebrity Sweepstakes
Parade also noted that Thicke composed the theme music for Celebrity Sweepstakes, a '70s game show that lasted for four years.
3. The Wizard of Odds
Thicke also composed the theme for this short-lived American game show, which was presented by fellow Canadian Jeopardy host Alex Trebeck.
4. Hello, Larry
According to IMDB, Thicke composed the theme music for Hello, Larry, a one season series about a 44-year-old psychology radio show host who is raising two teenage girls. Think Full House meets Fraiser.
5. The Joker's Wild
Thicke composed the theme music for another game show, The Joker's Wild, according to IMDB.
6. The Facts of Life
You take the good. You take the bad. You take them both, and then you have the most iconic theme song ever.
7. Diff'rent Strokes
Not only did her write the music, but according to Parade Thicke sang the Diff'rent Strokes theme song. He truly was a man of many talents and will be missed by all.