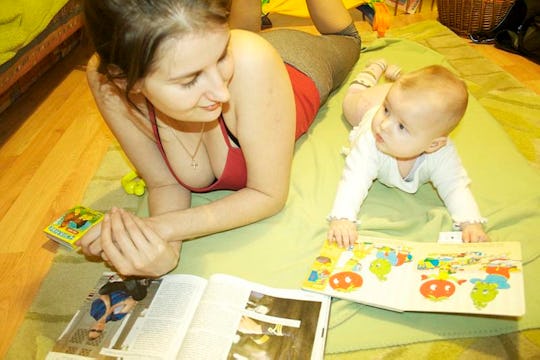 7 Ways Books For Babies And Toddlers Become The Most Disgusting Objects On Earth
While we all love our kids, even on their most trying days, we also recognize a few universal truths about them. One big one is the fact that babies and toddlers can be pretty gross. From the moment they're born, babies are constantly drooling, spitting up, peeing, and pooping all over the place. They're like pets who haven't been housebroken but you can't just stick them in the backyard for a few hours while you take a break from their disgusting bullshit. And as if all of that wasn't challenging (for your gag reflex) enough, when they get sick, there's snot coming out of their nose that they just don't quite get how to blow into a tissue. But at least most of this goes away as babies get older, right?
Wrong. As they age, kids get even grosser, sneezing without covering their mouths, and then rubbing their boogery faces on the couch cushions. Or they suck on their thumbs and then pick up things like shoes, making a nice saliva and dirt past on their hand, and then suck their thumbs again. Yuck. They seriously just get grosser until they grow up.
One of the things young ones like to touch frequently, often without remembering to wash their hands, are books. I don't know what it is about books (yes, I do: it's that they're basically made of paper, ready to absorb and hang onto any and all kid grossness) but they are the child possessions most apt to get filthy. Like, "there's no chance in hell I'm touching that board book you just pulled out from under your carseat, dude" filthy. My son, for example, can't get enough of books. We have them all over the house and he'll pick one up, scan through the pages, then throw it aside and grab another. When we go to the library, the kid goes wild, grabbing as many books as he can, oblivious to the dozens of other kids whose cooties also happens to be all over those books. Honestly, when you're a mom, after a while, you kind of begin to forget how gross our children's books can get. Here's a gentle reminder (that'll have you running for the antibacterial wipes in no time flat):