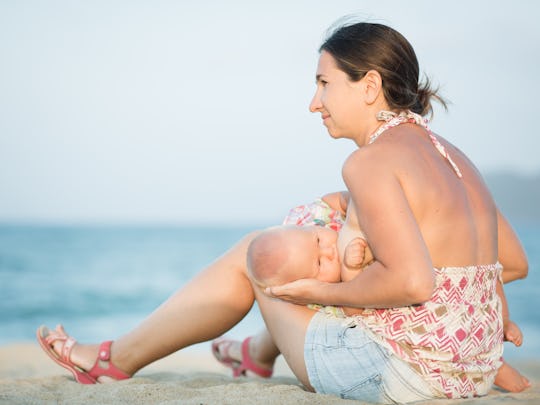 Olga Khoroshunova/Fotolia
7 Ways To Become More Comfortable Breastfeeding In Public
Breastfeeding at home, in your cozy sweatpants while leaning in the recliner, is one thing. Nursing in public, however, is a completely different animal. Although it usually takes a while to get comfortable with breastfeeding at all, throwing in the added "excitement" of doing it in front of people is enough to give some moms anxiety. Luckily, there are lots of ways to become more comfortable breastfeeding in public so that even the most inexperienced nurser can become a seasoned pro.
Though I can't remember the very first time I nursed my daughter in public, I do remember the awkward first few weeks of trying to forge a solid breastfeeding relationship. Even when I was around my friends and family, I was often tempted to just throw a blanket over both of our heads and feed inside our tiny "tent." Although I was never embarrassed to breastfeed in public, sometimes it felt awkward. All I wanted was a little bit of privacy to work out the kinks, so to speak.
Since you can't expect to stay cooped up in your house every time you breastfeed, it's probably a good idea to get acquainted with the idea of nursing in public. After a few "practice runs" you'll be able to feed your baby no matter where you go with ease. To help get your started, here are a few way to become comfortable breastfeeding in public.