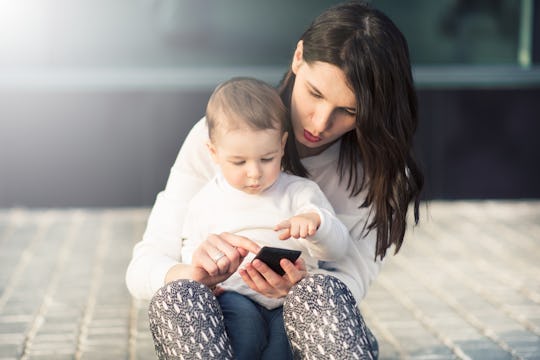 iuricazac/Fotolia
7 Ways To Call Out Mom Shaming, According To A Psychotherapist
If you're a mom or have ever been pregnant, you've probably been mom shamed. It happens far too often, and unfortunately it's often from other moms. It's frustrating because moms should be lifting each other up and empowering each other as women, not actively belittling, judging, or putting down. But what can you do to end this awful cycle other than vow not to do it yourself? Call it out. Check out these seven real-life scenarios from moms and ways to call out mom shaming, according to an expert who knows.
Psychotherapist, author of My Self, and owner of Serendipitous Psychotherapy LLC, Kelley Rompza Kitley, tells Romper that in her experience and expert opinion, the best way to call out mom shaming is to use a direct, honest, and empathic approach without getting into a power struggle with the other person. (Easier said than done.)
So how do you know if you're being mom shamed? Kitley defines mom shaming as "judgmental thoughts and behaviors — including gossip — toward another mom(s) and the way she may or may not choose to do something in regard to her children or relationships."
Let's face it, nobody parents 100 percent the same way, and we all have differing opinions on the way to go about doing things. If your kid is safe and not in danger, you're doing OK. Instead of feeling the need to shame others, we should focus on pulling each other up and creating a support system for all of us moms. And sometimes? That means calling out the shaming.
"If we don't call out [mom shaming] then it becomes normalized and the cycle doesn't get broken," Kitley says. "Negativity feeds off of negativity, and oftentimes it's a way people attempt to connect."
Instead of negative though, why not focus on the positive? Kitley points out, "You'll certainly earn a reputation for not being the mom who gossips and people will be more mindful of not saying anything in front of you if they choose to carry on with mom shaming."
"You will set a good example for other moms to know the behavior is not OK and in the future, might help moms think and pause before they say something" she adds. "Most likely they will feel 'shameful' about engaging in mom shaming. It will also send the message that moms will know you have their backs."
With social media and our constant exposure to our peers, mom shaming seems to be even worse than ever before. "There is constant exposure into everyone's life, whether it's real or fake and everyone has a different opinion about core values and raising children," Kitley says.
What if you're feeling a little judgmental yourself? Kitley suggests that you try to redirect your thoughts. "We are not responsible for our first automatic thought, but we are responsible for how we treat other people and what we say. Sometimes not saying anything at all — especially in mom culture — is much more powerful then joining the group norm," she says.
I provided Kitley with seven situations where real moms experienced mom shaming, and Kitley offered her advice on how to be direct and honest to try to correct and diffuse the situations.