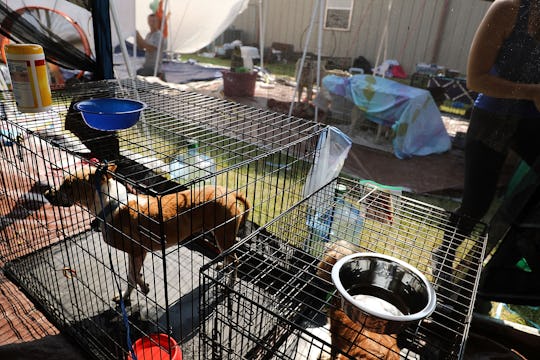 Spencer Platt/Getty Images News/Getty Images
7 Ways To Help Hurricane Victims This Thanksgiving, From People To Animals
Thanksgiving, despite its problematic origins, has come to represent a time dedicated to appreciating the people, experiences, and things that make life beautiful. Even though the holiday is traditionally spent with relatives, this gathering of gratefulness can be shared with everyone. That's why you might want to get a head start on embracing the spirit of giving this season by finding ways to help hurricane victims this Thanksgiving. As it turns out, it doesn't matter how near or far away you are from the areas affected by this year's intense hurricane season — you can provide support from virtually anywhere.
From finding easily accessible information on the internet to spreading messages exponentially with social media networks, there are so many opportunities to help the citizens of hurricane-damaged places, and thanks to today's technology, getting connected has never been easier. If you're worried about the financial toll this might take on you and your family, there are plenty of budget-friendly options, too. You'll probably find it surprising to see how much stuff you actually have (and don't need or use) when you decide to sort through items for donation.
No matter your location or situation, check out the many ways you can help hurricane victims this Thanksgiving.